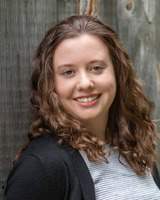 Rachel Starr graduated Magna Cum Laude from St. Lawrence University in Canton, New York this past May with a B.A. in Art and Art History and minor in Mathematics. Her focus was in Studio Art where her concentration in painting made her stand out from her classmates. She recently was featured in a group exhibition at the Richard F. Brush gallery in Canton, NY, where she displayed her remarkable oil painting skills through figurative works, which received high praise. Not only has she mastered oil painting, but acrylic painting as well. Last summer, Rachel was selected for a St. Lawrence University Fellowship, a competitive research-based award usually only given to science majors. Her research focused on exploring color and shape relationships through graphic design and acrylic painting. This project was so well received by the university and public alike that she sold many of these paintings almost instantaneously. It also helped her earn a highly coveted award at the end of her senior year from St. Lawrence University that recognized her superior artistic achievements.
While at St. Lawrence, Rachel worked four semesters at the Peterson Quantitative Resource Center (PQRC), mentoring peers in calculus, linear algebra, and financial and managerial accounting. She also assisted in leading beginner and advanced Excel workshops where she covered topics from inserting formulas into cells to efficiently sorting and filtering long lists of data. In addition, Rachel headed the PQRC's social committee where she planned employee events, like end-of-semester celebrations, and managed the center's social media accounts, promoting its resources and friendly atmosphere through Instagram and Facebook.
Two years ago, Rachel studied abroad in Trinidad at the St. Augustine campus of the University of the West Indies. She took classes in studio art, music, and Caribbean culture, giving her firsthand experiences in different Trinidadian lifestyles. Rachel participated in the country's pre-Lent Carnival celebration, volunteered as a classroom assistant at a Hindu primary school, swam in the clear waters of the Caribbean Sea, learned the art of Henna, and performed at a world musics concert in an Indonesian Gamelan ensemble. In Trinidad, Rachel realized her passion for travel and desire to learn about new environments and people.
Rachel is a native of Upstate New York who spends her weekends during the summer at her camp on Caroga Lake in the Adirondack Mountains. These summers are filled with kayaking around the lake, hiking nearby peaks, and s'mores-making with her family by the campfire. Her prior experiences make her aware of and excited to explore all the special things the Green Mountains hold. Rachel will combine her creative, analytic, and communication skills to elevate Wohler Realty Group's digital and print marketing strategies by spreading the allure of Vermont mountain life. After her internship at WRG, Rachel plans to travel as much as she can while pursuing a career in graphic design for non-profit organizations.