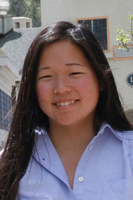 Kayse Brunell is a senior at St. Lawrence University in Canton, New York with a double major in business and fine arts. She is a member of the SLU women's club soccer team, which she helped start during 2015, and has worked in marketing at the Center for Civic Engagement. Kayse has been a recipient of the Augsbury North Country Scholarship for academic and co-curricular leadership among Northern New York students since her graduation from Plattsburgh Senior High School. Her passion for learning and hard work has earned her the Presidential Achievement Award since her freshman year.
Last summer she was selected for the Vivien Gardner Hannon Internship Fellowship. This allowed her to complete a management internship at the Indiana State Museum in Indianapolis. This year, Kayse studied abroad in Cortona, Italy with the University of Georgia. She was able to focus solely on her studio art and art history major participating in two art shows, one in Cortona, Italy and the other in Athens, Georgia.
A native of Upstate New York, Kayse has frequented Vermont and several ski areas in the northeast. Ski racing since the age of 6, she has a love of the mountains and the lifestyle that the New England mountain landscape has to offer. Understanding her father's buying and selling of real estate investment properties has given her insight into what is important to buyers and tenants.
Kayse is experienced in working for Nike and J. Crew, brands with strong reputations. She has been a Campus Ambassador for Knot Clothing, Hudson Sutler, and Tuck Life and understands the importance of a "lifestyle brand". Kayse is excited to bring her creative mind and business skills to Wohler Realty Group. After completion of her undergraduate degree, Kayse plans to pursue a career out west, specializing in marketing while still making sure to keep some free time for those powder days.