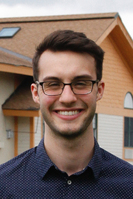 August Vitzthum
Intern
August Vitzthum is a Junior at St. Lawrence University in Canton, New York with a major in Computer Science and minors in Mathematics, German, and Physics. He has been awarded Dean's List for each academic semester and named a Faculty Scholar during the Spring 2017 semester for his high academic achievement.
August participates in a number of campus clubs and jobs. He is the founder and president of SLU Table Tennis, Treasurer of SLU Club Soccer, Vice President of the Semper Fi Club, and works as a German Language Tutor at St. Lawrence's Language Resource Center. In the coming semesters he will intern for SLU Career Services and work at the Peterson Quantitative Resource Center (PQRC), tutoring his peers in computer science.
As a Vermont native, August has a deep appreciation for the beauty of his state and what the Green Mountains have to offer. Working as a Customer Service Representative at Shaw's and Guy's Farm and Yard in his hometown of Montpelier, August has developed strong communication skills and thrives in active and challenging work environments.
August will apply his knowledge of Computer Science and analytical reasoning, streamlining the digital platforms at Wohler Realty Group. He has a fascination and love for the mountain lifestyle, and hopes to excite others about the charm and beauty of Vermont. Upon graduation from St. Lawrence University, August hopes to become a Software Engineer in the electric vehicle industry, making possible the future of self-driving cars and promoting a greener mode of American transportation.