National Night Out | August 2023
Amidst the array of annual occurrences, there's one that stands out as a shining beacon of appreciation and unity - National Night Out. Held the first Tuesday in August, the occasion isn't just a date on the calendar. It's a powerful celebration of our first responders, those who selflessly devote themselves to protecting our community. More than that, it's a vibrant thread that weaves together these heroes and the very hearts of the community they serve.
In Manchester Center, Dana Thompson Memorial Park was abuzz as Manchester and Winhall Police along with the Manchester Fire Department, Northshire Rescue Squad, Vermont State Police and Vermont Fish & Wildlife gathered with residents of the community for an evening of festivities. Accompanied by the vibrant acoustics in the background, the air was filled with laughter and enthusiastic discussions. Equipped with backpacks full of toys and goodies provided by WRG, children engaged in games and animatedly conversed with first responders as they eagerly explored equipment and vehicles from up close.
In contrast to densely populated regions with ample available resources, we are lucky to experience such prompt emergency assistance. This community gathering serves as an opportunity to realize that first responders, on occasion, transcend their roles as uniformed professionals – they are our neighbors as well. This closeness fosters a feeling of familiarity and assurance, as community members recognize that those who step forward during emergencies are not distant figures, but rather individuals deeply invested in the well-being of our community.
Vermont Summer Festival: Horse Shows In The Sun (HITS) | June - August 2023
Each summer a lively spectacle occurs in Southern Vermont where just outside picturesque Manchester the showgrounds come alive with a symphony of sounds – the rhythmic clip-clop of hooves, the joyful barking of dogs, and the excited murmur of spectators and participants alike.
The Vermont Summer Festival Horse Show is set against the breathtaking backdrop of the Green Mountains, painting a naturally colorful panorama. The courses, a labyrinth of challenges, stand ready – jumps, curves, and obstacles that demand a blend of courage, precision, and an unbreakable partnership between horse and rider. The hurdles are not just physical, the culmination of countless hours spent perfecting their craft exemplified through each performance.
The festival isn't just a standalone event, it's part of a global tapestry. Riders and horses traverse continents, united by a shared passion for equestrian excellence. The Vermont Summer Festival Horse Show becomes a crossroads of cultures, where languages and backgrounds blend seamlessly, bound by a common love for these magnificent animals.
Visitors are invited into its heart, as spectators roam freely through the showgrounds, immersed in the rhythm of the event. They witness the intensity of competition up close, engage in conversations with riders, and can even find themselves sharing a moment with a wagging-tailed furry friend. The divide between the audience and the spectacle fades away, the immersive experience cultivates a sense of inclusion and connection, enabling visitors to gain a deeper appreciation for the dedication and effort that underlie the world of equestrian competition.
. .
The Emerson String Quartet Opens Manchester Music Festival Season | June 2023
The Arkell was filled to the rafters as the world-renowned Emerson String Quartet opened the Manchester Music Festival Season on June 29 as part of their final global tour. WRG is proud to have sponsored this lovely evening, full of orchestral music and companionship among the community. The power of live music was truly undeniable as the audience sat captivated, unitedly mesmerized and applauding with fervor for these accomplished and beyond talented musicians.
Weston Young Company at The Grist Mill | June 2023
Wohler Realty Group recently had the pleasure of hosting Weston Young Company's cast of "You're a Good Man, Charlie Brown!" at our Gristmill office. The evening consisted of a couple songs from the musical followed by an engaging Q and A session. We are proud to support the burgeoning careers of the Young Company members, comprised of talented young artists selected from premiere BFA actor-training programs across the country. This was an invaluable opportunity to connect these members with aspiring youth in our community, providing insights into the world of performing arts, their personal journeys, and details regarding the summer-long residency program with Weston. The evening allowed for those interested in pursuing this profession to network with like-minded individuals and ask questions, further growing and exploring their passion for the arts.
Mt. Haunts Stratton Property in "New England Modernism" Documentary | June 2023
The Pearl Buck House
WRG had the pleasure of being behind-the-scenes as accomplished filmmaker, Emmy Award Winner, and President of Mainspring Narrative Films, Jake Gorst and his team, visited the Green Mountain State for their latest endeavor, "New England Modernism." They spent the morning filming WRG's Mountain Haunts listing, the definition of mid-century modern, its original owner being none other than Pulitzer Prize novelist Pearl Buck, well known for her best-selling novel The Good Earth.
As they gathered content, we did some documenting of our own. Witnessing Gorst and his crew document the property was a special scene, their passion and creativity evident. Accompanying Gorst was New York-based cinematographer Karrsten Harris and Director of Development for Mainspring Narrative Films, Susan Babcock. While Gorst quietly moved throughout the space, planting his tripod and capturing his content from the ground, FAA-licensed drone pilot Harris shot from above with distinguishable noises. A smile radiating appreciation and curiosity never left Babcock's face, as she assisted her partners throughout the process. From taking in the views and admiring the architectural features to hearing a familiar whirring sound and running for cover from drone shots, there was never a dull moment.
"New England Modernism" is set to premiere during Modernism Week 2024 in Palm Springs, California during the 11-day festival from February 15-25. Tickets go on sale November 1, 2023 at noon PDT.
Annual Stratton Pond Skim | April 2023
Agent Britt Wohler enthusiastically participated in the Annual Stratton Pond Skim, a beloved event that marks the end of another successful ski season at Stratton Mountain Resort. Skiers and snowboarders showcased their skills by skimming across a pond of water, creating a memorable and fun-filled spectacle. Britt's participation exemplifies our team's passion for the outdoors and our commitment to celebrating the vibrant spirit of our community.
Stratton 24 | March 2023
Wohler Realty Group was delighted to participate in the Stratton 24 event. This incredible event aims to support the Stratton Foundation, which provides vital assistance to local families and children in need. A dedicated team of our agents and friends skied through the night, fueled by determination, to raise funds for this worthy cause. It was an exhilarating and inspiring experience as we pushed our limits while making a positive impact in our community. Together, we demonstrated the power of teamwork and unwavering commitment to helping those in need.
SMS Winter Ball – Sponsored by Alumni & WRG Broker Britt Wohler | January 2023
Britt's Interview
"You don't realize the full impact that this school culture, discipline, and demands will have on your life beyond ski racing.
- 6:00 am wake ups
- International travel
- Sending papers back to school at 11:59 PM from a local laundromat because it's the only place in the Swiss town that has wifi…
Looking back, it's the foundation that has led me to success in both work and life.
This became evident during my 10 years in NYC Real Estate at some of the most prestigious firms, where I had over $470,000,000 in Closed Sales. Having experienced mental and physical challenges, long days of training and competition, passion and adversity while attending SMS, I was prepared for the work force where drive and continual pursuit of excellence are paramount.
For me, working in Manhattan Real Estate beginning in 2010, I found that preparing for a large pitch and presentation seemed less daunting. I had experienced the demands, high expectations and pressures before.
Covid brought me back to Vermont where I thought I would be working remotely for a few months. Like others, I reconnected and fell in love with the Vermont mountain lifestyle and the family business – Wohler Realty Group.
Once again, I'm still a motivated competitor – driven to help expand the success of Wohler Realty Group, which had over $118,000,000 in sales during 2022 and I continue to oversee our partnership with Brown Harris Stevens and BHS Partnering Worldwide- a global real estate sales platform. It's great to be back at The SMS Ball in person – reminiscing. The fundamentals that were instilled in me and the friendships that were forged at SMS last a lifetime!"
Food Basket Donation | December 2022
The Wohler Realty Group team came together to make a difference in our community by donating 19 food baskets to local food cupboards. With a shared commitment to helping those in need, we gathered essential food items and delivered them to support families facing food insecurity. It was a heartfelt effort to bring nourishment and hope to our neighbors, as we emphasize the importance of local businesses to contribute to the well-being of our community.
Care Event & Lights Parade | December 2022
Wohler Realty Group successfully hosted its Second Annual Community Care Event at the Kimball Gristmill Office in Manchester. The event brought together local non-profit organizations and community members to support their remarkable work. Attendees enjoyed the Lighted Tractor Parade and Wohler Realty Group's float, "Farm Your Vermont Dream." Our agents enthusiastically distributed seeds and farm-themed ornaments, adding a touch of joy to the festivities. It was a heartwarming occasion where we showcased our commitment to the community and the dream of finding one's perfect Vermont home.
Winter Sports Themed Basket for the VBOR Raffle | November 2022
Wohler Realty Group donated a winter sports-themed basket to the Vermont Board of Realtors raffle in November 2022. The raffle aimed to raise funds for the Realtors Political Action Committee (RPAC). Adding to the excitement, our Sales Associate, Helen Nault, won the basket! Congratulations, Helen, and here's to making a difference in the real estate industry and supporting important causes!
Winhall Halloween Candy Handout | October 2022
Wohler Realty Group enjoyed participating in the Winhall Halloween candy handout, where local businesses came together to create a delightful experience for children in our community. It was a joyous occasion as we gathered to distribute candy, spreading smiles and creating lasting memories. Being part of this festive event allowed us to connect with families and contribute to the Halloween spirit, fostering a sense of community and fun for everyone involved.
MMF's Orpheus Chamber Orchestra | September 2022
As summer came to a close, the MMF concert series continued to shine with the captivating performances of the Orpheus Chamber Orchestra. Their exceptional artistry and enchanting music transcended the changing seasons, leaving audiences captivated. Wohler Realty Group sponsored this esteemed ensemble as they brought timeless beauty and evocative melodies to the concert hall, reminding us of the enduring power of classical music. We invite you to reflect on the enchantment of this season's performances within the MMF concert series and cherish the moments of musical brilliance that illuminated our evenings.
Manchester & Winhall Police Departments "National Night Out" | August 2022
Sponsored by Wohler Realty Group, the Manchester Vermont & Winhall Vermont Police Department's National Night Out event was one to remember. It was an evening dedicated to strengthening community bonds, promoting positive police-community relationships, and enhancing public safety awareness. As a local realty group, we are committed to the well-being and safety of our community, making us proud to support initiatives like National Night Out that foster unity, trust, and collaboration among residents and law enforcement.
MMF's Aaron Delhi's Jazz Trio Sponsor | August 2022
Wohler Realty Group was delighted to sponsor the Aaron Delhi Jazz Trio who performed during Week 5 of Manchester Music Festival. The trio's captivating performances and exceptional musical talent have left audiences spellbound. As supporters of the arts, we were honored to contribute to their continued success and help bring their enchanting jazz melodies to our community.
Wohler Takes Over Saratoga Race Course | July 2022
Wohler Realty Group celebrated an annual sales of 115 million, continuing to place WRG at the top amongst Southern Vermont agencies with an exciting company outing to the Saratoga Race Course. The day was filled with thrilling races, friendly competition, and a vibrant atmosphere. As luck would have it, many members of our team emerged victorious, adding an extra layer of joy to our well-deserved celebration!
Manchester Music Festival Young Artists Concerts | July 2022
We were honored to sponsor the Manchester Music Festival's Young Artists Concert Series. The concerts showcased exceptional young musicians, providing them with a valuable opportunity to perform and gain exposure. By supporting this series, we aimed to contribute to the growth and development of these talented up-and-coming artists, empowering them to pursue their musical dreams.
Weston Theater Company Full Season Sponsor | June 2022
"Proud to be a Full Season Sponsor of the Weston Theater Company"
We were thrilled to be the full season sponsor of the Weston Theater Company for the 4th consecutive summer in a row. With a rich history and commitment to artistic excellence, the company has become a cherished institution in our community. We are proud to support, contributing to the vibrant arts community and ensuring the continued success of this cultural cornerstone.
Salo Family Fundraiser | May 2022
`
We are grateful for the tremendous support received during our fundraiser for Ernie Salo and his family after a devastating fire that destroyed their home. The Sushi & Saki Tasting event held on May 12th, accompanied by live music, Muddy Hollow Duo, was a resounding success. Your generous contributions made a significant impact, providing the Salo family with vital resources for their immediate needs and the process of rebuilding their lives.
Stratton 24 Results - We Couldn't Have Done It Without YOU
Team Wohler Realty Group braved the weather and successfully raised $3,645 from clients, friends and family. That means with WRG's pledge to match donations, a total of $7,290 was raised for the Stratton Foundation. Thank you so much for your help, we couldn't have done it without you!
Wohler Realty Group Gives Back
In the Spirit of Giving, Agents at Wohler Realty Group teamed up collecting and distributing 17 Food Baskets to local families in need this Holiday Season. Each basket contained enough food to feed a family of four for up to two weeks. This Holiday Season please find ways you can help those in need.
Wohler Realty Group Care Event A Success!
Wohler Realty Group would like to extend its deepest thank you to all of those who participated in this year's Care Event!
For those of you who couldn't join us, we look forward to continuing this tradition in the future and expanding participation.
A Friendly Reminder, it's not too late to make your tax deductible donation to the charity of your choice. View our list below and donate to a charity that is important to you!
•Bennington Habitat For Humanity •Dorset Equine Rescue •Dorset Theatre Festival •Level Field Fund •Make-A-Wish Vermont •Manchester Community Food Cupboard •Manchester Community Library •Manchester Music Festival •Merck Forest & Farmland •Neighbor To Neighbor •Northshire Day School •Northshire Hockey Association •Shire Kids Early Childhood Literacy •Special Olympics Vermont •Stratton Foundation •The Collaborative •Smokey House Center •Vermont Community Garden •Vermont Fusion Soccer •Vermont Rare •Vermont Reading Partners •Weston Playhouse
Stratton Foundation Golf Outing Raises $23,000!
Thank you to all those who participated in this year's Stratton Foundation Golf Outing. The Foundation Raised $23,000 to support basic necessities for local children and was a great success!
Kimball Grist Mill Launch Party A Success
Wohler Realty Group & Friends enjoyed a summer celebration at their new office in the Kimball Gristmill overlooking the waterfalls. It was great to see so many welcoming and familiar faces back in Vermont to enjoy everything the area has to offer! Camaraderie was enjoyed by all with refreshing beverages, catering by The Dorset Union Store and flowers by The Bondville Bloomist. Please stop by and see this amazing office in such a wonderful historic building.
3 Pears – Ken Rush "Summer Days" Opening Reception
Meet popular artist Ken Rush and join us for his opening reception introducing his collection of works 'Summer Days". Wohler Realty Group is proud to be a sponsor for the cocktail reception at 3 Pears Gallery on the Dorset Green on Saturday July 10th from 4-7PM and Sunday July 11th from 2-5PM. Complementary signature drinks by Mad River Distillers.
WRG & MMF Host The Manchester Business Association Mixer
Continuing our commitment to support non-profits and youth, WRG is proud to be host to the MBA Mixer with the Manchester Music Festival. As a sponsor of the MMF Young Artist Program, we are delighted to be able to introduce these extraordinary performers to the Manchester Business Community. This concert will exemplify just one of the many reasons that we feel so strongly that, as a locally owned business, it is our responsibility to support the programs and organizations that enrich our communities and continue to invigorate the economy.
Enjoy Live Performances at The Weston Playhouse
Wohler Realty Group is a premier sponsor for the Weston Playhouse summer season, Vermont's oldest professional theatre. Experience world class performances of Seussical, An Iliad, Ring of Fire, and The Mountaintop. Additional outdoor concerts scheduled under the Walker Farm Tent.
Breaking Ground In Manchester
Britt and Chip brave the weather, successfully hanging Wohler Realty Group's sign at the Kimball Gristmill in Manchester Center, Vermont. Open to the public soon, we look forward to welcoming you in our newest office!
Wohler Realty Group Helping Families
Food insecurity is a huge issue that is growing, in spite of local and regional efforts. Families accustomed to working and being able to support and feed their families have found themselves in unknown territory, of which there is no pathway out until a vaccine is widespread and the economy of the region can be jumpstarted.
Please join us in continuing to support community and nonprofits in food relief efforts for your Vermont neighbors.
Kim Wohler, Owner & Managing Broker
Vermont COVID-19 Update
As Vermont COVID-19 cases continue to spike, Governor Scott's most recent Executive Order goes beyond the previous order for individuals to "Stay Home, Stay Safe" and all non-essential businesses to work remotely with no "in-person" work. The new order includes:
All nightly lodging, online booking and short-term rentals are suspended with law enforcement checking for compliance and penalties in place for non-compliance.
Traveling into Vermont from "hot spots" such as New York, New Jersey and Connecticut is discouraged. Residents and non-residents coming to Vermont MUST SELF QUARANTINE for 14 days. This means only leaving the house to get groceries or medicine. No contact with others at the home or elsewhere.
All Vermont schools are closed through the end of the school year and all non- essential businesses remain closed to the public. Our National Guard is constructing eight satellite hospitals throughout the state in preparation for the surge. Do Your Part. Keep up to date with COVID-19 in Vermont.
www.healthvermont.gov www.vtdigger.org www.vermontbiz.com
Stratton Foundation COVID-19 Relief Fund
With hourly workers furloughed and school breakfast and lunch programs halted, Vermont families are struggling to put meals on the table. Our local food banks and organizations cannot keep up with the increasing need.
The Stratton Foundation has established the COVID-19 Relief Fund to support local families in need during these challenging times. We know that you, as members of our Stratton community, have a deep appreciation for Vermont and care about this area. Please join Wohler Realty Group in supporting our mountain community by donating to the Stratton Foundation Relief Fund today. More than ever your contribution will make a significant difference.
Closure of Stratton Mountain for the 2019-2020 Season
Following Vermont Governor Phil Scotts "Stay Home Stay Safe" order, Alterra has announced the closure of Stratton Mountain for remainder of the 2019-2020 winter season. Wohler Realty Group wishes good health and safety to our clients, customers, friends and agents during these challenging times.
Vermont Open Snowboard & Music Festival
This weekend, March 13 to 15, head to Stratton for the 2020 Vermont Open. Whether you are a participant or spectator, there is fun to be had by all at this snowboard and music event. Competitions include the Rail Jam and Retro Pipe. New this year is a two-day Banked Slalom. Partial proceeds benefit the Ross Powers Foundation. Register today.
SKI for MS
Ski with a purpose, ski for a cause. SKI for MS has set a goal of raising $250,000 by skiing 5 Million vertical feet collectively across 7 Mountains. Stratton is hoping to contribute 450,000 feet - $40,000. Sign up today for this wonderful fundraising event that will take place this Saturday, March 7.
Winter Summit
Friday through Sunday, February 21-23, Stratton is partnering with Get Out And Trek to host Winter Summit. This inaugural LGBTQ winter weekend is sure to be a hit. With mixers, pride-parades down the mountain, exclusive parties and more. Details
Presidents' Week At Stratton
Enjoy extended hours at the Stratton Coca Cola Tubing Park during Presidents' Week. Saturday through Saturday, February 15 - 22, the Tube Park will be open from 11am - 7pm. There is fun for all with s'more making around the fire pit and drinks and tasty snacks from the warming hut. Head to Grizzly's for après ski festivities with live music and great company. Later get your fill of late night tunes at the Green Door. So much to love at Stratton.
Sign Up Your 24 Hours of Stratton Team Today
Get your team together for the eighth annual 24 Hours of Stratton. This nonstop, 24-hour ski extravaganza kicks off Saturday, March 21. Ski through the night and enjoy Stratton under the stars. 24 Hours of Stratton is an event with a purpose. Participants fundraise to support the Stratton Foundation and its quest to improve the lives of Vermont children living in poverty. Sign up your team and start fundraising today!
MLK Weekend at Stratton
When you have finished playing in the FOOT OF FRESH POWDER that Mother Nature has so generously bestowed upon Stratton, venture to Grizzly's for après ski festivities. Relax with good company and live music. The Amish Outlaws will be playing Saturday and Sunday, January 18 and 19, from 3pm-6pm. Don't miss the MLK fireworks show on Saturday, January 18, at 8:30pm. Take in the spectacular pyrotechnics from the Base Lodge. There is also a guided snowshoe hike that will let you see the fireworks from the mid mountain. Details
Learn to Ski/Ride Day at Stratton
Have you been wanting to learn to ski or ride? Make 2020 the year you take to the mountain. Friday, January 10, Stratton is offering a $79 learning day package that includes gear rental and 3 hour lesson. Details
NYE Fireworks at Stratton
Ring in the New Year with Fireworks at the Base Lodge. Tuesday, December 31, is the annual NYE fireworks show. Gather with family and friends to celebrate the start of 2020! Torchlight parade at 8:30pm with Fireworks to follow.
Doggie and Me Hike
Sunday, December 29, is the guided Doggie and Me Hike. Grab your four-legged friend, a leash and some snowshoes. Meet outside the North Face Store in the Village at 11:30am.
Open House at 325 Forrester Road
Rare Opportunity - Join us Sunday, December 29, from 11am - 2pm for a tour of one of Stratton's most distinctive residences. Located near the Stratton Sun Bowl, 325 Forrest Mountain Road offers luxurious amenities and privacy. Registration is required at the door with photo identification.
Light the Night
Saturday, December 28, the Nordic Trails at Stratton Mountain will be alight for some after hours snowshoeing and cross country skiing. Reserve your rentals now.
3 Pears Gallery at the Stratton Pop Shop
Stop by the Pop Shop in The Village from December 17 through January 2 to take in the spectacular Vermont art. With winterscapes, sculptures, animal paintings and more, 3 Pears Gallery makes finding an enduring holiday gift simple and enjoyable.
Painting: Deborah Cotrone, A Stratton Afternoon, Oil on Canvas, 20"x30"
Order A Vermont Turkey for Thanksgiving
Thanksgiving is just around the corner. Make sure to order your Vermont-raised turkey before our local farms run out. Someday Farm in Dorset offers some of the finest turkeys around. Give Scout a call to reserve your bird today (802-362-2290). Details
Apple Harvest Dinner at Scott Farm Orchard
Come to Scott Farm Orchard this Saturday, October 26, at 6 pm for the 12th Annual On-the-Farm Apple Harvest Dinner. The four-course tasting menu celebrates heirloom apples and vegetables grown at Scott Farm. Tickets available now. If you can't make the dinner, it is well worth the drive to Dummerston to visit Scott Farm on another day. With over 130 varieties of ecologically grown heirloom apples, Scott Farm is one-of-a-kind orchard that is historic and beautifully maintained. Details
29,029 - Everest
29,029 - Everest comes to Stratton October 17 through October 21. Do you have what it takes to climb Stratton? How about climbing it 17 times — the equivalent of summiting Mt. Everest. Those up to the challenge will have 36 hours to hike Stratton as many times as they can with the gondola being used for descents. Participants of this ultimate endurance weekend enjoy a luxury basecamp with "glamping" tents, sumptuous food and drink, bands and entertainment. Athletes also get access to training programs and elite coaching.
Pumpkin Carving & Harvest Festival
Come to the Equinox Nursery this Saturday, October 19, from 11:00 am to 4:00 pm to enjoy fall fun for the whole family. Carve your own jack-o-lantern to bring home for the holiday. Venture through the corn maze or take a wagon ride. With mini horses, a bouncy house, face painting, craft vendors, local food and drinks, there is something for everyone. Don't miss out on this fun-filled afternoon that benefits The Dorset Equine Rescue. Details
Brewfest
What better way to spend the long weekend than celebrating at Stratton Mountain. Sample the region's best craft beers at the Brewfest this Saturday, Ocotber 12, from noon to 6 pm. Don't miss the Chili Cook-Off where tastes of homemade chili recipes will be served from 1 - 3 pm. There's plenty of entertainment for the whole family between the live music and activities - bull-riding, axe throwing, keg tosses, face painting and more. Take the gondola or hike up to the summit to see Southern Vermont's spectacular fall foliage. Get geared up at the tent sale!
45 Annual Vermont Antique Dealers' Show at Stratton
The leaves have taken on their autumn hue - it's the ideal time for a getaway to Vermont. Come to Stratton this Saturday & Sunday, October 5 & 6, for the 45th Annual Vermont Antique Dealers' Show. Enjoy the foliage and find the perfect statement piece for your home. Admission to the show is $10. Details
Peru Fair
Get excited for the 38th annual Peru Fair this Saturday, September 28th from 9 AM - 4 PM! This old fashioned country fair will feature a pig roast, music & entertainment, Vermont crafts, antiques & art, pony rides, delicious food, and a whole lot of family fun!
All parking at Bromley Mountain with free shuttle to and from the fair. Admission is $6 to benefit the Peru Fair Scholarship Fund.
The Vermont Challenge
The Vermont Challenge is a four-day bicycle tour across southern Vermont. Pedal through the picturesque Green Mountain state and enjoy delicious local fare along the way. Event starts Thursday, August 11, and concludes Sunday, August 14. This year's Vermont Challenge features a new ride-led format that offers participants the opportunity to visit businesses and tour interesting sites. Each day three courses of varying length will be offered—short, medium and long. Riders will group together under the guidance of experienced leaders as they make their way through Dorset, Manchester, Stratton and more. Enjoy four incredible farm-to-table lunches and two sumptuous dinners. The Vermont Challenge is limited to 100 participants. Register by June 1 or while spaces remain.
Memorial Day Weekend at Stratton
Saturday, May 25 — Color Run, Music in the Village, Sidewalk Sales
The Color Run is a short family fun run with race t-shirts and environmentally-friendly colored power. Register in the West Wing of the Base Lodge at 9 am for this 10 am race. Later, enjoy afternoon music in the Village from 1 - 4 pm as you shop the sidewalk sales.
Sunday, May 26 — The Eagles Experience Concert
Stratton will be hosting kid's activities around the Base lodge from 4 - 9 pm. That night, The Eagles Experience will be kicking off the Stratton Mountain Music Outdoor Concert Series. The concert is free for all and will start at 7 pm.
Monday, May 27 — Mid-Mountain Hike
Refresh yourself from a weekend of fun with a rejuvenating mid-mountain hike hosted by Lolë. Hike begins at 11 am in front of the Lolë store in the Village. Donations will be accepted for the Vermont's Special Olympics Team.
Kicks4VTKids
Wohler Realty Group is partnering with the Stratton Foundation again. This time the cause we are backing is something we all take for granted — shoes. Over 2,000 children in the towns neighboring Stratton live in poverty and most do not have adequate footwear. Kicks4VTKids is a Stratton Foundation campaign aimed at providing sneakers to local children in need. Wohler Realty Group will be donating 20 pairs of brand new sneakers to children in our area. Join us in giving local kids new sneakers so that they can be properly prepared and feel their best. Make the $50 donation today. In addition, our office is collecting "like new" sneakers that can be dropped off in the Kicks4VTKids box on our front porch anytime before April 15th. Thank you for supporting a great cause with us.
Sugar & Strings - End of the Season Music Celebration at Stratton
WinterWonderGrass will be hosting an outdoor bluegrass concert Saturday and Sunday, April 13 and 14, at the Stratton base area. Entry is free and all are welcome. Shows start at 3 pm and goes until 7 pm. Bands include Horseshoes & Hand Grenades, The Kitchen Dwellers, Twisted Pine and more. Late night music to follow at Grizzly's.
Music at the Walker Farm in Weston
Sunday, April 7, the Lonesome Ace String Band will be performing with the Terrible Mountain String Band. Show starts 3 pm. The following Sunday, April 14, is the final Jukebox program of the season. Come from 4 - 5:30 pm to hear music by Ravel, Debussy, Sufjan Stevens, Beethoven and more. Tickets available in advance or at the door.
Spring Fling Events - Saturday, March 30
Pond Skim
The annual Pond Skim will take place at 11:00 am in front of the Base Lodge. Prizes to the top three costumes and #1 best crash. Registration starts at 9:00 am at the Base Lodge and is open to the first 125 participants
Penguin Plunge
Brave the cold as you take an icy dip for a good cause. This year's Penguin Plunge starts at 1:00 pm at the Base Lodge. The Penguin Plunge supports Vermont's Special Olympic Athletes. Get your team together and fundraise now.
Marchdi Gras Parade
Celebrate the start of spring with a New Orleans-style block party. The Stratton Village will be filled with specialty food, festive drinks and music. The Marchdi Gras Parade through the Village will take place at 3:00pm with beads and celebration
Taste of Vermont
This Saturday, March 23, the Stratton Foundation is hosting Taste of Vermont. This culinary event will take place at the Base Lodge from 7:00 - 9:00 pm. Drinks and fare from the area's most celebrated restaurants, caterers, bakers, and brew and spirt makers will be available for tasting. Purchase your tickets now. Proceeds benefit the Stratton Foundation and their quest to better the lives of children and families living in poverty in Southern Vermont.
7th Annual 24 Hours of Stratton
Get your team together for this year's 24 Hours of Stratton. This nonstop, 24-hour ski extravaganza kicks off Saturday, March 16, at 9:00 am. Ski through the night and enjoy Stratton under the stars. In the morning watch the sunrise from the chairlift before heading to Grizzly's for the closing ceremonies and athlete appreciation breakfast. As always, 24 Hours of Stratton is an event with a purpose. Participants fundraise to support the Stratton Foundation and its quest to improve the lives of Vermont children living in poverty. Sign up and start fundraising today!
24 Hours of Stratton Weekend Events
Friday, March 15
7:00 PM – 10:00 PM Early Registration Open Pizza & Brew
Saturday, March 16
7:00 AM – Check In Opens
8:00 AM - Athlete Grab N Go Breakfast
8:30 AM - Rules & Announcements
8:45 AM - Gather in Courtyard for Parade of Champions to the Start
9:00 AM - 24 Hours of Stratton Begins!
Race & Activities Schedule To Come
9:00 PM Fireworks, Fire Pits, Smore's and More!
Sunday, March 18
9:00 AM Official 24 Hour Finish with Athlete Appreciation Breakfast and Ceremony at Grizzly's
The Vermont Open
Stratton will host the 7th Annual Vermont Open Friday, March 8 through Sunday, March 10. This event celebrates the beginnings of snowboarding, which originated here in the Green Mountains, and the evolution of the sport. Watch snowboarders of all ages come out to compete for a prize purse of over $20,000. The events supports the Ross Powers Foundation.
The Wailers at Grizzly's
The remaining members of the iconic reggae band Bob Marley & the Wailers will be performing at Grizzly's Saturday, March 2, 2019. Don't miss out on the chance to hear their creative and distinctive music. Show begins at 8 pm. Tickets available in advance.
WRG Public Open Houses on Stratton During President's Week
Visit our Open Houses on Stratton during President's Week. Our knowledgable agents will be on hand to help find the perfect condo or townhome for you and your family. Visit the Stratton commons and these trailside properties. Make Stratton your winter home this season!
Monday, February 18, from 1 - 4 pm
Ober Tal B-12 1 Bed
Mountain Watch 1106 2 Bed
Hearthstone 134 3 Bed
Wednesday, February 20, from 2 - 5 pm
Mountain Watch 2403 3 Bed
Village Square 54 3 Bed
Mountain Reach 6 4 Bed
Susan G. Komen 3k and 5k Snowshoe for the Cause
Start the New Year off with some healthful exercise for a great cause. Sunday, January 6, is the Susan G. Komen Foundation 3k and 5k Snowshoe run/walk. Help the Foundation fundraise and achieve their "Bold Goal" of reducing breast cancer mortality in the U.S. by 50% by 2026. Race will take place at the Nordic Trails at the Stratton Sun Bowl with a 9 am start.
3 Pears Pop-Up Gallery in the Stratton Village
The 3 Pears Art Gallery has a pop-up venue in the Stratton Village through Sunday, January 6. For the third year, this exceptional Vermont gallery is setting up shop on the Mountain to bring fine art to the Stratton community. Stop by and see unique pieces that capture the spirit of life the Green Mountains. Join us and our friends from the Gallery on Saturday, December 29, from noon to 5 pm to celebrate the New Year. Take in the artwork as you enjoy delicious hors d'oeuvres and, of course, a glass of good cheer. See you at the Gallery.
Painting Above: "A Stratton Afternoon" by Deborah Cotrone (Oil on Canvas, 20"x30")
Boots4VTKids

Boots4VTKids is a Stratton Foundation fundraiser for local children in need of warm socks and good boots. Join Wohler Realty Group in donating to this important effort. A donation of $75 gives a child a pair of winter boots, wool socks and an age appropriate gift. An additional $25 donation can be made to purchase a food card for the sponsored Vermont child.
Get Ready for Opening Day at Stratton Mountain
Projected opening day is Wednesday, November 21. The long weekend will be filled with festivities to kick off another fantastic season at Stratton. Thursday is the annual Gobble Gobble Wobble 5k with a 9:00 am start at the Clocktower. This family-friendly run is a great way to enjoy Thanksgiving morning and make room for the evening feast. Friday is Snowlight in Vermont, a Stratton Foundation event featuring the annual Tree Lighting Ceremony in the Village starting at 5:30 pm. Join us as we illuminate the Village and fundraise for a great cause.
Click here to see a list of events.
Stratton Mountain Harvest Festival
Columbus Day Weekend is early this year! What better way to spend the long weekend than celebrating at Stratton Mountain's Annual Harvest Fest. Sample the region's best craft beers at the Brewfest on Saturday, which would not be complete without a Keg Toss! Don't miss the Chili Cook-Off where samples of homemade recipes will be served all day. Saturday will be filled with live music all afternoon while Sunday will feature the unique Greensky Bluegrass concert, where you'll find traditional bluegrass sounds mixed with a fun rock & roll twist. There's plenty of entertainment for the whole family to enjoy too! Relax on a hay ride around the resort or participate in one of the many activities the village has to offer. Take the gondola or hike up to the summit to see Southern Vermont's spectacular fall foliage.
Click here to see list of events and buy tickets.
Manchester Fall Art & Craft Festival
Experience a beautiful fall weekend in Vermont at the annual Manchester Fall Art & Craft Festival September 28-30! Find incredible handmade creations and meet the makers of the works. Enjoy specialty Vermont foods and drinks all weekend long as well as live music and other entertainment. Join visitors from all over the Northeast at this awesome festival surrounded by the spectacular autumn foliage. Don't miss this fun event!
The Festival is located at Riley Rink in Hunter Park, Manchester from Sept. 28-30, 10 AM - 5 PM. Daily Adult Admission is $10 while a Weekend Pass costs $12. Children entry and parking are free.
http://craftproducers.com/festivals/28th-annual-manchester-fall-art-and-craft-festival/
Antique Show at Stratton Mountain Resort
Looking for a lovely way to enjoy a beautiful fall weekend in Southern Vermont? Look no further as the Vermont Antiques Dealer's Association will be holding their annual Antique Show at Stratton Mountain Resort from September 29-30. Find that extraordinary piece of furniture or work of art you need to complete your home while taking in the breathtaking fall foliage on the mountain.
Admission is $10 and the show is located in the Stratton Mountain Base Lodge. Hours are 8 AM - 5 PM on Saturday, Sept. 29 and 11 AM - 3 PM on Sunday, Sept. 30.
https://www.vermontantiquesweek.com/stratton
Northshire Bookstore Brings Jodi Picoult to Manchester
One of the biggest names in literature is coming to Manchester! New York Times best selling author, Jodi Picoult, will be promoting her new book "A Spark of Light" at Maple Street School on Wednesday, Sept. 26 at 6 PM. The book launch is sponsored by Northshire Bookstore and Planned Parenthood of Northern New England. Picoult will be interviewed by Vermont-based author, Chris Bohjalian. Tickets are required for the event and each ticket purchase includes a pre-signed copy of the book.
Click here for more details and to buy tickets.
Peru Fair
Mark your calendars for the 37th annual Peru Fair on Saturday, September 22nd from 9 AM - 4 PM! This old fashioned country fair will feature a pig roast, music & entertainment, Vermont crafts, antiques & art, pony rides, plenty of food, and a whole lot of family fun!
All parking at Bromley Mountain with free shuttle to and from the fair. Admission is $6 to benefit the Peru Fair Scholarship Fund.
ITVFest Save the Date
The 13th Annual Independent Television Festival returns to Manchester, Vermont for another 4 days of discovering the world's best episodic shows and talent. ITVFest is a worldwide community of creators, executives, agents, and fans responsible for recognizing new television programs created on independent, non-network budgets. New this year is the launch of the ITFest Marketplace, on opportunity for content creators to meet directly with executives and producers shopping for new shows and talent. Best of all, ITVFest is an open public festival that builds and supports a larger community! The dates for this year's festival are October 10-14, 2018.
For more information and to purchase tickets, click here.
Harvest Festival & ContraDance at Merck Forest and Farmland Center
Celebrate the beginning of Autumn at Merck Forest and Farmland Center on Saturday, September 15th during its Harvest Festival & ContraDance. Activities will include wagon rides, food, games, farm-skill demonstrations, and nature explorations. See beautiful Vermont fall foliage while enjoying time with family and friends at the festival!
The event begins at 9 AM and will conclude with the ContraDance at 3 PM. Admission is $3 per person. Merck Forest and Farmland Center is located at 3270 Route 315, Rupert, Vermont 05768.
http://www.merckforest.org/event/harvest-festival/
Maple Leaf Half Marathon
Lace up those running shoes because Saturday, September 8th marks the 2018 Maple Leaf Half Marathon and Kotler 5K Run in Manchester, Vermont. The race will take you through beautiful Vermont landscapes past village settings to farmlands and country roads during the early stages of fall foliage. All proceeds will be given back to the local community in the form of grants, scholarships, vision screening, hearing aides, and eyeglasses. Don't wait, register now for this spectacular event!
http://www.manchestervtmapleleaf.com/
Labor Day Tent Sale
Winter is coming so why not stock up on your favorite gear now? Stratton Mountain will be hosting their Annual Labor Day Tent Sale from Thursday, August 30 - Monday, September 3. Get spectacular deals on outerwear, accessories, skis and snowboard gear for the upcoming season.
Times: Thursday 9-5, Friday 9-6, Saturday 9-7, Sunday 9-6, Monday 9-1
Blues, Brews and BBQ
Kick off Labor Day weekend at Stratton Mountain on Saturday, September 1st with Blues, Brews and BBQ. Enjoy live Blues music while sampling local Vermont beers, ales, lagers and ciders, and eating local BBQ. Hear bluesy tunes from Long Road Home, Erin Harpe & the Delta Swingers, and the Dave Keller Band starting at 11:30 AM. The $38 ticket price includes a commemorative tasting glass, 10 sample tickets each redeemable for one 4oz beer sample, and all taxes and fees. Make this Labor Day weekend a one to remember with family and friends at Stratton Mountain!
For ticket purchases and more details, click here.
Bondville Fair
Celebrate the end of summer at Vermont's oldest continuous fair in Bondville from August 24-26. Come play a round of bingo or buy a locally handmade item at the craft fair. Experience thrills and an adrenaline rush on the midway rides. Pet friendly barn animals or spend your afternoon at the pulling track. Indulge in some fair snacks while you're at it!
Pride & Prejudice at Dorset Theatre
Catch the adaptation of Jane Austen's classic romance, Pride & Prejudice, at Dorset Theatre before the show's end on August 25th. Watch as outspoken and independent Elizabeth Bennet faces mounting pressure to secure a suitable marriage when she meets standoffish, but attractive, Mr. Darcy. Described as a "rollicking, witting, and thoroughly entertaining reinvention of the Jane Austen classic," this is one performance you don't want to pass up.
Purchase tickets here.
Stratton Summer Concert Series: Gang of Thieves
On Saturday, August 18th, Gang of Thieves will perform at Stratton Mountain as part of the summer concert series and the weekend's SolarFest. The funk rock band hails from Burlington, Vermont and has performed worldwide, captivating audiences of all ages. Gang of Thieves pioneers a new type of American Rock n Roll, integrating funky riffs, catchy melodies, and electric violin into unforgettable high energy performances. You better put on your dancing shoes for this show because you won't be able to stop yourself from getting down to the band's infectious tunes!
Doors open at 5 p.m. with Gang of Thieves to perform at 7:30. Buy tickets here.
Learn About Renewable Energy at SolarFest
Experience New England's most entertaining source of energy education at Stratton Mountain this weekend. This two-day celebration highlights the latest in renewable energy & conservation, green buildings, sustainable living & food, music & arts, public policy & activism, and innovation, technology & transportation. The event will feature live music, art exhibits, nationally recognized speakers, and leading experts in the fields of energy and climate change. Fun the whole family can enjoy!
https://www.stratton.com/things-to-do/events/solarfest
Green Mountain Bluegrass & Roots Festival Starts August 16th
New to Manchester, VT this summer is the Green Mountain Bluegrass & Roots Festival which will be held at Hunter Park from August 16-19. See headliners like Peter Rowan, Molly Tuttle, Mipso, and Mandolin Orange. Concert goers will be able to camp on the 30-acre site and take part in the communal music-making tradition of bluegrass music. Experience the sounds of acoustic guitars, mandolins, fiddles, upright bass and vocal harmonies set around the beautiful Green Mountains.
Purchase tickets here.
The Vermont Challenge
Nothing says summer in Vermont better than a weekend of cycling! The Vermont Challenge is a top rated four-day long bike competition, from August 16-19, that offers different stage tours to pick and choose from. New to the race this year is a tour up Mount Equinox, the highest peak in the Taconic Mountain range! Cyclists also receive special perks like meals, jerseys, goodie bags, shopping discounts, and more. A portion of your registration fee goes to support food banks and rural hospitals in the community too. Cruise your way through the scenic countryside of central and southern Vermont in this fun and worthy cause!
Manchester Sidewalk Sales
Looking for some bargain shopping? Stop by Manchester, VT for their Designer Outlets' annual outdoor street sale from August 9-12. Get great deals on name-brand clothing and goods from unique, independent retailers. Whether you're hunting for back-to-school discounts or simply looking to update your wardrobe, this sale is for you!
http://www.manchesterdesigneroutlets.com/things-to-do/annual-sidewalk-sales#
Steve Kovach's "Chasing the Light" at 3 Pears Gallery
3 Pears Gallery located on the Dorset Green will be hosting an opening reception, co-sponsored by Wohler Realty Group, for Steve Kovach's "Chasing the Light" solo show. It will be held Saturday, August 11th, from 5-7 PM, with hors d'oeuvres and complimentary cocktails by SILO Distillery.
Kovach's paintings have long been a reflection of the different locales in which he has lived and traveled. "Chasing the Light" represents his latest artistic development, capturing brilliant instances of Vermont's distinct beauty.
Kovach relocated to Vermont nearly two years ago and immediately fell in love with the area. He finds that this part of Vermont has a particular and unique beauty unlike anywhere else. "Chasing the Light" seeks to capture fleeting fragments in time that are almost intangible. Kovach explains that you can pass by something everyday and not think anything of it until the light hits it differently. "In that one second everything about it changes and you know it won't ever look that way again. It's exciting because it gives you incentive and inspiration to want to paint it."
When asked how he chooses his compositions, Kovach says "When I see it, I know I'm going to paint it." He also explains that it's not always about the subject matter for him. "It's the process of the light you want to emulate; what drew you in from the start." What makes his paintings so refreshing and successful are his detailed underpaintings that he teases out, back and forth, until he reaches what he calls "the sweet spot," where the lighting and colors are perfectly balanced and come together.
Kovach is well recognized for his commissioned works, bringing fine artistry to the pieces he creates for his clients. He offers an exceptional skill set to the process of creating private pieces, beginning with developing an understanding of each client and the distinctive quality that will elicit a personal connection to the finished work. He is taking reservations for commissioned pieces, most notably, house portraits in their special Vermont settings.
Steve Kovach is a resident of Peru, Vermont and is looking forward to many years of painting the challenging beauty of Vermont. "Chasing the Light" will run from August 11 - September 9 at 3 Pears Gallery located on the Dorset Green.
The North American Obstacle Course Racing Championships Debut at Stratton Mountain
Grab your sneakers and water bottles because the first NorAmChamps will be hosted at Stratton Mountain from August 10-12. Individual races, like the 3K, 7K, and 15K, will be held throughout the weekend while a Team Relay will conclude the festivities on Sunday. All distances will feature a Pro Division and Age Group Divisions for qualified competitors. Don't miss this one-of-a-kind opportunity to see incredible athletes push their minds and bodies through challenging obstacle courses to compete for the title of "Champion".
Beer vs Wine Workshop
Don't go to just any traditional happy hour - try the Beer vs Wine Workshop at Stratton Mountain's Grizzly's from 3-5 p.m. on August 4th! You'll pair local Vermont cheeses with three different beers and three different wines with Stratton's culinary experts. This is the second workshop of the series and will feature beverages from Austria. Time to put those taste buds to the test!
Attendance is free with a donation at the door with funds benefiting the Manchester Food Bank. Seats are limited so online reservations are recommended. Register here.
A Night at the Opera
In the mood for opera? We recommend attending A Night at the Opera on Saturday, July 28th at the Southern Vermont Arts Center. The evening will showcase four singers from the Metropolitan Opera and renowned pianist Warren Jones as part of the ongoing Manchester Music Festival. See favorites like Bizet's Pearl Fishers duet, Massenet's Pourquoi me reveille, Verdi's La donna e mobile, and many more. Don't pass up this rare opportunity to experience opera in Vermont! You can purchase tickets online.
Big Sam's Funky Nation To Perform at Stratton Mountain
Hailing from the land of Mardi Gras, Bourbon Street, and gumbo, Big Sam's Funky Nation is set to perform at Stratton Mountain as part of the mountain's Summer Concert Series this Saturday. Known for their combination of funk, jazz, rock, and hip-hop, the band is one of South's secret treasures. The six man group has released five fan favorite albums and performed at some of the biggest music festivals like Bonnaroo, SXSW, and Austin City Limits. Be prepared for an energetic performance on Saturday full of trombone, trumpet, guitar, bass, and keys. Grab your party beads and a dancing partner because this if going to be one summer concert you won't want to miss!
https://www.stratton.com/things-to-do/events/smm-big-sams-funky-nation
Bondville Concert Series is a Success
The first performance of the Bondville Concert Series was a huge hit! On July 6th, the Bondville Fairgrounds were packed with over 200 people and $645 in funds were raised to support the local community. People brought picnics and kids were playing games in the grass while Luminous Crush performed a free concert. Wohler Realty Group is proud to be a sponsor of such a great event and we're looking forward to the next concert this Friday. On July 20th, Dub Perpetual will be performing at the Bondville Fairgrounds from 6 - 8 p.m. Come out to support the community and let's try and raise even more funds this time!
https://www.facebook.com/Bondville-Concert-Series-2082009912015501/
2018 Koman Vermont Race for the Cure
Register teams or individuals for the 2018 Vermont Race for the Cure to raise funds to help end breast cancer. The annual 10k and 5k runs will be held in Manchester, Vermont at Hunter Park on Saturday, July 21st. This nationally recognized event helps to save lives in the community and nationwide. Your fundraising efforts will go towards continuing research, improving care, providing community resources, and supporting advocacy. Together we can create a world without breast cancer!
Click here to register and find more details about the race.
Weston Playhouse Opening of West Side Story
Find yourself transported to 1950s New York City with the opening of West Side Story at Weston Playhouse on July 12th. Watch as star-crossed lovers Tony and Maria struggle to keep their secret love alive in this iconic American musical. The production will recreate Jerome Robbins' award-winning choreography and commemorate composer Leonard Bernstein's 100th birthday. The musical will be held at the playhouse's main stage until August 4th.
Run time is approximately 2 hours and 30 minutes. Ticket prices range from $54-$68. You can purchase tickets here.
Manchester Music Festival Begins Thursday, July 12th
Nothing to do Thursday night? We've got you covered. Stop by Manchester to attend a classical concert! The Manchester Music Festival welcomes top musicians who headline world famous stages and orchestras for five weeks in the summer. You will find that the selected music spans from classical chamber compositions to more contemporary works. Busy on Thursday? No worries, concerts are also held Saturday nights - one of which will feature four singers from the Metropolitan Opera!
Save the Date: August 11th
Steve Kovach, Dorset Field, Oil on panel, 24 x 60 inches
Wohler Realty Group is excited to announce its sponsorship with the 3 Pears Gallery for an upcoming show featuring artist Steve Kovach. Kovach will be showcasing his Vermont works which capture the region's beauty, character, and glow.
Join us at the opening reception on August 11th to experience Kovach's stunning paintings and enjoy cocktails and hors d'oeuvres from 5-7 p.m. at the 3 Pears Gallery in Dorset. We look forward to seeing you!
For more information, call 802.770.8820.
Bondville Concert Series Starts Tomorrow
Wohler Realty Group is proud to be a sponsor of the Bondville Concert Series this summer! This is its first season where five free concerts will be held at the Bondville Fairgrounds. The series will benefit the Grace Cottage Hospital as well as the Winhall Food Pantry, Library, and Community Arts Center. July 6th is the kickoff date and the first band performing is Luminous Crush. The sound of this Southern Vermont quintet focuses on dreamlike pop and rock vignettes. Join us on the 6th for a wonderful summer night full of music and friends.
All concerts will be held at the Bondville Fairgrounds from 6-8 p.m. Food will be available to purchase from local vendors.
For more information about the concert series, click here.
Wohler Realty Group takes Stratton Foundation's Golf Benefit
This past Friday, the WRG Team played 19 holes at the Stratton Mountain Golf course in support of a charity golf outing hosted by the Stratton Foundation. All proceeds went towards Moving Mountains, a charity that provides basic necessities to Vermont families in need. Pictured above are our talented sales associates, Bob, Helen, and Paul. The three had a lovely afternoon golfing on Stratton's beautifully kept course and enjoyed dinner, drinks, and awards in the evening. What a fun way to support the community!
Vermont Summer Festival
July 3rd marks the beginning of the six-week long annual Vermont Summer Festival. Come see New England's largest hunter/jumper competition in its special 25th anniversary season! The schedule highlights all levels of competition and offers a wide range of events for riders to choose from. All shows will be held at the beautiful Harold Beebee Farm in East Dorset. Don't miss this exciting event while you're here.
https://www.vt-summerfestival.com/index.php
Take a Dip at Snowmaking Pond
One the of best swimming spots in Southern Vermont can be found right here in Stratton! The Snowmaking Pond is perfect for swimming, wading, fishing, paddling, and playing. Rocks situated on the edge of the pond are ideal for sunbathing or jumping off of too! A trail loop follows the pond making it a popular place for jogging and dog walking. Admire the mountain views while you're here and breathe in the pines that surround the pond. During the winter, water is pumped out to supply fresh powder for the slopes of Stratton Mountain. However, warm weather brings many family, friends, and furry companions to this local gem. Make sure to check it out this summer! 77 Kendall Farm Road, Winhall.
Fourth of July Weekend Celebration
Stratton Mountain invites you to their Annual Mountain Friends and Freedom Festival! Gondola rides, hikes, live music, barbecues, and more awaits you and the family from June 29-July 2. A spectacular fireworks show will be held at the main base area of the mountain at 9:15 p.m. on Sunday, July 1st. The entire list of events can be found through the link below.
https://www.stratton.com/things-to-do/events/4th-of-july-celebration
The Sounds of Summer at 3 Pears Gallery
3 Pears Gallery will present Jim Rodgers' The Sounds of Summer solo show on June 30th. Rodgers is an awarded contemporary painter who creates landscapes, still lives, and genre paintings in an impressionistic style. With travel being a passion and inspiration to his work, Rodgers hopes that his personal renditions give viewers a glimpse into how he sees the world. Having the opportunity to see his vivid color palette, painterly brushstrokes, and stunning compositions should not be passed up. The opening cocktail reception is 5 -7 p.m. on the Dorset Green. For more details about the show, call 802-770-8829. You can find more information about Rodgers here.
Stratton Mountain Summer Concert Series Kickoff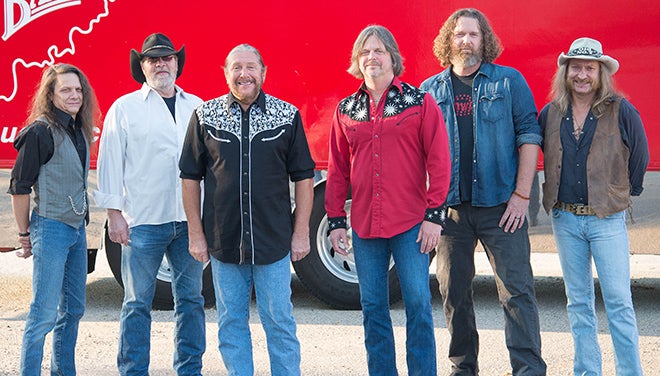 The Marshall Tucker Band will kickoff the Stratton Mountain's Summer Concert Series on June 30th. The band is known for blending rock, county, jazz, gospel, and rhythm & blues to create a unique sound and musical performance, which has earned them seven gold and three platinum albums. Grab family and friends for this fun concert at Stratton Mountain's main stage. Sit under the stars on the lawn or experience the concert beneath the tent. Feel the band's energy and enjoy their hit singles like "Heard It In a Love Song" and "Take the Highway". The beginning to summer never sounded so good.
Tickets are $25 in advance or $30 the day of the concert. Doors open at 5 p.m. and The Marshall Tucker Band goes on at 7:30 p.m. Purchase tickets here.
Stratton Foundation Charity Golf Outing
Looking to hit the greens and help those in need? Look no further, register for Stratton Foundation's golf benefit.
The tournament will be held on June 29th at Stratton Mountain Golf Course. Proceeds will go towards Moving Mountains, a charity that helps children and families in Vermont living in poverty. A light lunch will be provided while the evening will feature cocktails, awards, and a barbecue. 18 holes, food, drinks, prizes, and friends - how else would you want to spend a Friday?
For details and costs, click here.
Wanderlust Stratton 2018
In need of a breath of fresh air? Stratton Mountain will be hosting Wanderlust from June 21-24. The multi-day festival brings together yoga teachers, musicians, speakers, and chefs to promote mindful living. Choose your own adventure! Whether you are looking for an energizing hike in the Green Mountains or a peaceful yoga flow under the pines, Wanderlust offers something for everyone. Learn about local organic foods by indulging in a farm-to-table meal with friends. Or spend your evening by the main stage, dancing in the glow of the mountain moonlight to cool songs and rhythmic beats. Escape to Stratton for this four day weekend.
https://www.stratton.com/things-to-do/events/wanderlust
Weston Playhouse Summer Opening
June marks the opening of Weston Playhouse's 2018 summer season. The multi-stage season is packed with classic plays, famous musicals, and ground-breaking news works. Bring the kids to see beloved Anne of Green Gables starting June 13th at the second stage at Walker Farm. Or invite a date to see the Pulitzer Prize-winning Our Town, starring Christopher Lloyd, beginning June 21st at the playhouse's main stage. You do not want to miss these Broadway-quality, live performances this summer! For the entire list of shows and details, click here.
Winter with Wohler Realty Group at Stratton Mountain, Vermont
MANCHESTER MERRIMENT
Six weeks of small town charm, snow-capped mountains, and the spirit of the season. Manchester Merriment kicks off Thanksgiving Weekend and continues through New Year's Day. Highlights include tree lighting, tractor parade, historic inn tours, and Hildene, the Lincoln Family Home decked in her Victorian finery. Plus, festive and fun holiday markets, visit from Santa, and the Elf Express train ride for kids! For Merriment updates, join our email list!
ITV Fest
Against a backdrop of autumn splendor, artists and audiences gather to celebrate outstanding independent small-screen production. ITVFest (the Independent Television Festival) is a worldwide community of television creators, executives, agents, and fans responsible for discovering the best new indie television programs. Come for seminars and screenings, rub elbows with industry movers and shakers, and stay for a glamorous red carpet event. Special lodging rates available.
Fall Art and Craft Festival
Quaint, historic Manchester has been hosting this Fall Art and Craft Festival for nearly thirty years! Juried artists and artisans shop their wares while musicians play and chefs craft excellent eats. Meet more than 100 talented makers while you shop for a one of a kind piece. Family friendly atmosphere, specialty foods and spirits tent, all around good vibe on a perfect foliage weekend.
PERU FAIR
Right in the heart of historic Peru Village, an old-fashioned country fair. The Saturday-only event is beloved by visitors and local alike. Includes a pig roast, live music, craft vendors, cloggers, antiques and art exhibits, clowns and magicians, pony rides, local food and drink, baked goods. Park at Bromley Mountain and ride the shuttle down the street.
Dirty Heads - Free Concert
Get ready to feel good at this Sunday night free concert with tunes from the five piece jam band, Dirty Heads, as they take the mountain stage with their sunny style, fusing reggae, hip-hop and acoustic tunes fresh off their new self-titled album. With sights set on breaking the mainstream, the group can be seen touring the country in the wake of their most successful release to date, their album Sound of Change, which debuted at No. 1 Billboard's Top Alternative Album chart and single "Lay Me Down" topped the Alternative Songs chart for 11 weeks. All this rockin' news and we haven't even told you the best of it. The show is free!
https://www.stratton.com/things-to-do/events/dirty-heads
MAPLE LEAF HALF MARATHON
A terrific excuse to race our country roads while supporting a fabulous cause! Run a stunning 13.1-mile loop through the hills and valleys of Manchester before returning to our Parks & Rec for food, drink, live music, and an awards ceremony. A top-notch, professional event, Maple Leaf is produced by partner charitable organizations, the Make-A-Wish Foundation and the Manchester Lions Club.
http://www.manchestervtmapleleaf.com/
Lolë Lives Out Loud Yoga
Join Lolë Stratton over Labor Day Weekend to kick off National Yoga Month with two amazing events on Sunday, September 3 and/or Monday, September 4. Gather on top of Stratton Mountain's Summit Deck for a breath of fresh Vermont air, beautiful scenery and a once in a lifetime practice with live music being performed by local musicians. Each session will include Meditation, Face Yoga, each ambassadors unique practice and Savasana.
https://www.stratton.com/things-to-do/events/lole-labor-day-yoga
Beer V. Wine Series
Join us at 4pm under the tent in the Main Base Area on Sunday, September 3. Attendance is free with a donation at the door. Seats are limited and online reservations are recommended. To secure your spot register below or call 1-800-STRATTON (787-2886).
Summer on Stratton Mountain
Manchester Food and Wine Classic
The Manchester Food and Wine Classic is a premier destination event where master winemakers, culinary greats, and our distinguished guests gather to play, wine, and dine in beautiful southern Vermont. Experience more than 100 food artisans, wineries, breweries, distilleries, epicurean purveyors, and locally-made products at this ultimate food and wine experience. The Manchester Food and Wine Classic is proud to giveback to The Stratton Foundation, a Vermont non-profit helping those in poverty, crisis, or emergency
The event will be from Aug 25th to the 27th, in Manchester and Stratton Mountain Resort. Be sure to get your tickets ahead of time to participate in all the exciting events!
Greensky Bluegrass
Stratton will be having Greensky Bluegrass on Saturday, August 5th. Come up the mountain and enjoy Greensky's eclectic twist on the classic genre, mixing the acoustic stomp of string band with the rule-breaking spirit of rock & roll.
Ken Rush Opening Reception
Don't miss Wohler Realty Group and artist Ken Rush Friday, August 4th from 5:30-7:30 pm for his opening cocktail reception at 3 Pears Gallery. We'll see you Friday at 3 Pears Gallery on the Dorset Green, across from the Dorset Inn. For more work by Ken Rush, visit his website at http://www.kenrushstudio.com/
Stratton Golf July Scramble
Get back into your golf game on July 29th at the July Scramble at the Stratton Resort Golf Course! This event is a 4-player scramble that includes men's, women's, and mixed teams playing both handicap and non-handicap flights. The cost is only $80 for your team of 4. The scramble will kick off at 1pm. Call 802-297-4118 to reserve your spot.
Vermont Summer Festival Calcutta
Summer in the Green Mountains offers endless activities and one of the area's premier events is the Vermont Summer Festival. This renowned equestrian competition captivates everyone so put it on your bucket list! Please join us at the Calcutta for an exciting day of wagering in an open-auction event at Vermont's premier horse show. All proceeds benefit Southwestern Vermont Health Care Foundation, including 50% of the wagering on the Grand Prix event. Wohler Realty Group is proud to be supporting this event! The Calcutta will be on Saturday, July 22nd at 11am.
Preservation Hall Jazz Band
Preservation hall Jazz Band brings along with it the legendary jazz of New Orleans. The septet has shared festival stages from Coachella to Newport, including names like Stevie Wonder, Elvis Costello, the Grateful Dead, My Morning Jacket, Arcade Fire, and the Black Keys. The concert will be on the 22nd of July. Doors open at 5pm and the music will start at 6pm. Tickets are $25 in advance and $30 at the ticket window. Come by for a great night of jazz!
https://www.stratton.com/things-to-do/events/preservation-hall-jazz-band
Manchester StreetFest
Come together for a block party on Manchester's Main Street on July 21st between Thai Basil and The Mountain Goat from 6-9pm. There will be live music, plenty of food, and activity vendors for everyone!
Weston Playhouse's Once
Until July 15th, Weston Playhouse will be performing Once, a musical romance written by Enda Walsh set in Dublin – winner of eight Tony Awards, including Best Musical and Academy Award for Best Song. Play summary: A Dublin busker helps his father in a vacuum repair store and spends his free time singing for tips. He meets a young Czech woman who plays piano and writes her own songs. Musically, they are a perfect match. Romantically, there are impediments….
http://www.westonplayhouse.org/shows-and-events/calendar/event/once
Vermont Summer Festival 2017
The Vermont Summer Festival kicked off its first week after the 4th of July. The Vermont Summer Special will end on the 9th in East Dorset, VT. The next week the Manchester Summer Festival will open, followed by the Manchester Classic Horse Show, Valley Classic Horse Show, Manchester & the Mountains, followed by the Vermont Summer Celebration. All of these events take place at the Harold Beebe Farm in East Dorset.
For spectators viewing begins from about 8:00 am to 4:00 pm.
Ticket Prices are
$6 for Adults and $3 for Children, Wednesday, Thursday, Friday.

$9 for Adults and $5 for Children, Grand Prix Saturday and Sunday.
Manchester Music Festival Opening Night
Join Manchester Music Festival this Thursday July 6th at the Southern Vermont Art Center's Arkell Pavilion for the Kickoff to the best season yet! Artistic director Adam Neiman is joined by Stefan Milenkovich on violin, Chen-Yen (Brian) Chen on viola, and Bion Tsang on cello for a music filled evening. Tickets are $45 and can be purchased through the link below.
http://www.mmfvt.org/concerts/
Ring In Summer
Stratton Mountains' fourth of July fireworks were the best per usual. The weather was beautiful and fun was had by all. There isn't a more fun way to ring in the summer than with a spectacular fireworks display. Look out for more upcoming events at Stratton this summer!
Another Great Year of Wanderlust
Wanderlust at Stratton was a huge success. Warm weather, sunshine, healthy food, delicious drinks, meaningful practice, and smiles could be seen all over the mountain. The festival was fun for all ages and made sure that you left with a new piece of knowledge or perhaps some goodies from the excellent vendors. We at Wohler Realty Group are already looking forward to their return!
RIDE WITH A PURPOSE
If you're looking to get out of the early summer heat, cool off in the mountains and ride some dirt. RAS Gravel is hosting the 3rd annual RAS Gravel Adventure Saturday, June 24th. This race includes 41.6 miles of riding and over 4000 ft of climbing. This year includes updates like more gravel roads, a start/finish post ride at Wild Wings XC ski center, craft beer, and kombucha. Registration grants you an entry into the raffle, pre/post food and beverages, a day riding the scenic roads of Vermont, and donations to a great cause. Registration ends June 22nd, register with the following link https://www.bikereg.com/ras-adventure-ride--10krun-run.
RASopathies are a group of genetic syndromes that may be as common as 1:1000. The RASopathy syndromes include: cardio-facio-cutaneous (CFC), Costello (CS), LEOPARD/NSML, Neurofibromatosis type 1 (NF1), and Noonan (NS).
Our mission is to advance research of the RASopathies by bringing together families, clinicians and scientists.
100% of the proceeds donated to RASopathies.net
3 Pears Gallery and Wohler Realty Group Share a Successful Event!
Saturday night's opening show of Leslie Parke's Back Roads brought together a multitude of friends, community, and art enthusiasts to celebrate the beginning summer and her incredible body of work. The night was full of energy and Parke's approachable nature and engaging discussion were enjoyed throughout the evening.
Her engaging pieces were very well-received, with a large number of paintings and photographs donning red dots before the night's end. With beautiful art, excellent food, and refreshing drinks, our visitors thoroughly enjoyed themselves. Big smiles were had and hearty laughs could be heard echoing throughout the historic gallery.
Wohler Realty Group is proud to have co-sponsored such an event, and we'd like to thank those who came Saturday. Be on the lookout for future WRG events!
Motion and Light in Leslie Parke's Back Roads
3 Pears Gallery on the Dorset Green will host a special reception, co-sponsored by Wohler Realty, for the opening of Leslie Parke's "Back Roads" solo show, featuring new works of the nationally acclaimed artist's paintings and photography. The opening cocktail reception will be held Saturday, June 17, 5-7pm, with hors d'oeuvres and complimentary featured cocktails by Mad River Distillers.
Parke has long used photography as a tool to capture images to use as source material for her large, rich, textured, complex paintings. "Back Roads" represents the latest development of the artist in her professional evolution, the combination of discipline and joy in constant discovery, and the movement between two mediums to express the infinite effects of light.
As a grant recipient and artist in residence at the Claude Monet Foundation, in 1994, Parke spent five months immersed in the immortal gardens at Giverny. (Literally, she waded into the pond, "begging for the gardens to give up their secrets" seeking to make the experience her own. Ten years later, and again after that, her quest led to artist residencies in Europe, and the legacy of another modern icon propelled her. This time, it was in Vallauris, France, where Picasso made his ceramics. Walking down the road that Picasso would have taken to the beach, the "brilliant Mediterranean light pushed through the trees, creating a pixilated, rainbow effect…. The fire in the color and the sensation of quivering leaves woke up something in me," and she realized that what Monet had left out, was motion.
Parke notes that modern people don't tend to look at static landscapes anymore--we see the landscape as it slides past our car windows, giving it a sideways glance. She shoots out the car window using a phone camera, but wants the photograph to look like a painting, and be responded to as a painting. She seeks to elicit questions and inquiry: "Is it something real or something abstract? Are we looking through something, at something, or at something reflected? I think that the more times I am able to multiply these questions, the more interesting things become."
Leslie Parke holds a BA and MA from Bennington College and lives in on the Vermont/New York border. The recipient of numerous grants, her work is exhibited in museums and held in private and corporate collections. "Back Roads" will be up from June 17 – July 28 at 3 Pears Gallery, 41 Church Street, Dorset, VT.
Contact Greg DeLuca: 802-770-8820.
Orvis Fly Fishing
If you missed out on the Orvis Fly Fishing 101/201 class this weekend and want to get back out there don't fret. There are some great fishing sports such as Lowell Lake and Gale Meadows Pond in Londonderry, Bullhead Pond in Manchester, and Emerald Lake in East Dorset. Orvis also holds free fly fishing sessions that are run on a first come first serve basis. You will be outfitted with the proper gear for this class and will be given discounts so that you can continue this sport. Orvis runs these classes throughout the summer so look out for another clinic soon.
To sign up or for more information, visit http://www.orvis.com/s/manchester-vermont-orvis-retail-store/379?dir_id=41775&group_id=41790
Yoga on the Farm
Love yoga? The Marble House Project in Dorset, VT will be starting up their summer yoga classes very soon, June 5 and going through September 21. Improve your flexibility, build strength, and practice mindfulness. The class is designed to bring attention to physical awareness and focusing on movement with breath. Kripalu and Vinyasa classes are led every Monday and Thursday in the Marble House Project barn from 8:30 – 9:30am. Classes are $12 and appropriate for all levels.
For more information, visit Marble House Project's website here - http://www.marblehouseproject.org/yoga/
3 Pears Gallery Art Expo
Wohler Realty Group is proud to co-sponsor the opening of Leslie Parke's Art Exposition at 3 Pears Gallery in Dorset, Vermont. Parke's new exposition is "Back Roads", featuring paintings and photographs. Her abstract aesthetic, which is seen in her paintings, is influenced by photographs of unorthodox subject material. Her work contains an abundance of subject matter - sometimes chaotic, yet always thought-provoking. Parke is an artist from upstate New York with a BA and MA from Bennington College.
In Vermont we like to say, "You can't get from there to here", meaning that there is no direct route from here to there. In Leslie Parke's series "Back Roads", she abandons the destination altogether and paints and photographs what she finds along the way. We don't look at static landscapes anymore, we see landscapes as they flit past our car windows, in different weather, and at different speeds.
While Parke's paintings explore the mysterious and the mundane, her photographs, taken on the fly from her car window, give us a completely new and surprising experience of the landscape.

High Road


Field II


Raking


Landscape Reflected
The exhibition will be from June 18 – July 28 at the 3 Pears Gallery on 41 Church St, Dorset, VT. Join us for the opening cocktail reception on Saturday, June 17, 5-7pm to celebrate the beautiful art of Leslie Parke.
For more information and work from Leslie Parke, visit her website here – http://leslieparke.com/
Stratton Resort Summer Tennis Camps
It's time to get your racket out and get back on the outdoor court! The Cliff Drysdale Tennis School runs camps and programs at the Stratton Training and Fitness Center until September 1st. The programs are designed for three different age groups: the junior tennis camps, ages 5-14; the Mountain Strong Academy, ages 14-18; and the adult programs and camps, ages 18 and up. Multiple camps and programs are available for each age group, so be sure to sign up for the right one(s)!
Information for the junior tennis camps - https://www.stratton.com/plan-your-trip/cliff-drysdale-tennis-school/junior-tennis-camps
Information for the Mountain Strong Academy - https://www.stratton.com/plan-your-trip/cliff-drysdale-tennis-school/mountain-strong-academy
Information for the adult programs and camps - https://www.stratton.com/plan-your-trip/cliff-drysdale-tennis-school/adult-programs
West River Trail Run
The 5th Annual West River Trail Run will be held this Saturday starting at 9am in South Londonderry. The West River Trail Run is also known as 11 Miles of Trouble after the infamous 36 miles of trouble along the West River. This route was difficult for the railway over 130 years ago that traveled over its narrow and winding terrain. The race includes waterfall views, switchbacks, and woods; it ends in Jamaica State Park. There are 4 options for the run: the 11 mile run as a single participant, the 5k fun run, the 3-leg relay run, and the youth 5k fun run. You can register online until June 3rd at 8am. Don't miss out on this opportunity to get outside and enjoy the scenery.
Registration: Register Here
More information: More Info Here
Farmers Market & Tempura-Fried, Chevre-Stuffed Squash Blossoms
Looking for a way to cook some of the veggies and fresh cheese you picked up from the farmers' market in Manchester, Dorset, or Londonderry? Look no further, tempura-fried, chevre-stuffed squash blossoms are the perfect hors d'oeuvre to put you and your friends in the summer spirit. Tempura-Fried, Chevre-Stuffed Squash Blossoms Recipe. Buy local and take advantage of summer's abundance of fresh produce!
Here are the details for local farmers' markets in the area…
Manchester Farmers' Market - May 26th to October 6th
Every Thursday in Adams Park rain or shine from 3 - 6pm
Dorset Farmers' Market - Year Round
Every Sunday outside the H.N. Williams Store, or J.K. Adams (Winter Location) from 10am-2pm rain or shine
Londonderry Farmers' Market - May 7th to October 7th
Located at the junction of routes 11 & 100, Saturdays 9am - 1pm
Stratton Mountain Summer Golf Season Kickoff
Stratton Mountain Country Club will be hosting two events to kick off 2017's summer golf season. The Stratton Mountain Golf Expo on May 28 will be loads of fun for the whole family. Demo the latest clubs starting at 10am, then participate in early season clinics with PGA professional David Bowyer starting at 1:30pm. There will be a BBQ at the course and plenty of games for the kids.
The Mountain School Golf Tournament will be on June 5. For more information visit http://themountainschool.org/. Registration is at 11am; the shotgun start is at 12pm. Enjoy the evening with an included dinner at 5pm and prizes/auction at 6pm. Participating as a single player is $125; as a team a 4 is $500. The tournament is first come first serve, so reserve your spot now by calling 802-297-2662 or by emailing office@themountainschool.org.
Doggie & Me Hike
Bring your Dog along with you this Memorial Day Weekend!
Stratton Mountain and North Face are hosting a "Doggie and Me Hike" to Mid-Mountain. Come to the North Face Summit Shop at 9:45am to sign up, the hike starts at 10am. The hike will be led by Paula Pelkey, who will make sure to have some time for you and your four legged friend to do some yoga along the way.
Attendees will receive a special gift from North Face along with some exclusive discounts so don't miss out!
Get Your Summer Hike On!
Jamaica State Park
Open: 10am - sunset
48 Salmon Hole Lane
Jamaica, VT 05343
About 0.5 miles from the center of Jamaica.
Jamaica State Park features hiking trails ranging from 2 - 6 miles. The Hamilton Falls trail which is 6.0 miles round trip is relatively a 4-hour trek which brings you to the bottom of the falls. Once there you may venture to the top of the falls which will place you on top of a 125ft cascade. This trail is moderate to difficult and is also marked by blue blazers.
Sculpture Art in Manchester
Have you been to the largest sculpture garden in VT?
The Southern Vermont Arts Center in Manchester, VT sits on over 100 acres of forest which is scattered with sculptures. The Southern Vermont Arts Center also includes the Yester House Gallery which contains 28 rooms for you to explore. The Elizabeth de C. Wilson Museum offers over 800 pieces of contemporary art for your viewing.
The SVAC is free and open to the public Tuesday - Saturday 10am - 5pm and Sundays 12 - 5pm.
PAVEMENT to POWDER in an HOUR!
Scheduled flights to Stratton Mountain from Manhattan all Winter. Book your seats for MLK and Presidents Weekend!
Email Winter@WohlerRealtyGroup.com to enter to win a complimentary seat!

Summer on The Mountain
Chocolate, Cheese and Chili Fest
Are you a cheese connoisseur? Charmed by chocolate? What about a chili chef? This Monday, August 1st, from 5-8pm the Chocolate Cheese (and now) Chili Fest returns to the Landgrove Inn for an evening of indulging in some tasty treats from local chocolatiers, cheese makers, and chefs. Also at the fest will be a 50/50 raffle, live music, a cash bar, and a silent auction with many incredible items on offer including a one-week stay at a private home in Nova Scotia!

Tickets can be pre-bought for $15 at The Green Mountain Pharmacy, The Landgrove Inn or Neighborhoods Connections. Tickets can also be purchased at the door for $20. What pairs better than a sweet and savory indulgence? Food and fundraising! All proceeds from the event go to benefit Neighborhoods Connections, a non-profit organization offering health care and social services to underserved mountain area residents. This is an event for the entire family and should not be missed! For more information go to http://www.neighborhoodconnectionsvt.org/choco-cheese-chili-fest.html
Manchester Music Festival
There are many sounds of Vermont. Skis cutting through freshly groomed trails, birds chirping in the early morning hours, the buzz of cicadas on a hazy hot summer day. In Southern Vermont, we are lucky to also have the sounds of world class music echo throughout the mountains. Now in it's 42nd year, the Manchester Music Festival summer season is in full swing. Every Thursday until August 18th, MMF will perform special concerts each with specific themes ranging from music from Russia and Armenia to classical Mozart. You can see the Manchester Music Festival perform each Thursday at 7:30pm at the Arkell Pavillion in the Southern Vermont Arts Center.
If you're going to be around Stratton Saturday July 30th or August 6th you're in for a musical treat! Stratton will be hosting the MMF as part of their "Back to Base" summer series. On the 30th, Out on the Tiles, a Led Zeppelin tribute band will perform and symphonic pops on the 6th. Experience the Manchester Music Festival this summer to discover more of Vermont's soundtrack!
Tickets and more information are available online at www.mmfvt.org
Vermont Summer Festival

Trucks pulling horse trailers have been trickling into the Northshire with the arrival of the annual Vermont Summer Horse Festival. For six weeks each summer, the Beebe Farm in East Dorset, Vermont, becomes host to hundreds of riders as they compete in a variety of events. Whether you're a horse lover or just looking for a great spectator event, don't miss the opportunity to visit the festival. The natural scenery is only enhanced by these magnificent creatures. The Beebe Farm is completely transformed into an equestrian village with local sponsor booths and vendors selling riding paraphernalia, tack and boots among the paddocks and competition arenas. You'll have a delicious variety of food choices as several mobile chefs make the Vermont Summer Horse Festival their home from July 5th through August 14th.
Make sure you visit the Helmholtz Fine Art Gallery in Manchester to view the current exhibition, "The Untamed Horse". You can't miss the gallery on Route 11/30 with it's life size horse sculpture prominently displayed outdoors.
With the annual return of the horse show, local merchants stay open on Friday evenings until 8:00PM so take in the shops en route to dinner after a wonderful day at the Summer Horse Festival!
Tour de Bondville
Time to dust off your bike and take out the golf clubs! This Saturday, June 25th, the 9th Annual Tour de Bondville event is back. Cycle at your own level by choosing either a 16, 25, 50 or 53 mile bike ride OR if you'd rather putt than pedal, sign up for the 18 hole golf tournament. Both events start at 9am so you can only participate in one! Top off the day by coming together for an after event celebration in Grizzly's at 3pm. Proceeds go to the Breast Cancer Research Foundation. Last year the event raised $42,000. This year they are setting the bar higher in hopes to raise even more, so encourage your friends to participate as well to help meet this year's donation goal! For more information and the Registration Form go to http://www.tourdebondville.com
Farm Fresh Food
One of the best things about living in Vermont is the constant access to fresh foods. Rich fertile lands provide a ready canvas for starting your own garden of vegetables, greens, herbs and more. Lacking a green thumb, but still want fresh quality produce? Lucky for us, we are surrounded by several farmers markets which offer delicious local products. Farmers markets have surged in popularity across the US as people are embracing the importance of nutrition and living a healthy lifestyle.

Whether you're interested in fresh healthy food, local treats, or artisan crafts you are sure to find something to bring home when browsing through a farmers market. Stratton is located near three of the area's best. During the summer months, The West River Farmers Market in Londonderry runs every Saturday from 9am-1pm and the Manchester Farmers Market is open every Thursday 3pm-6pm. The Dorset Farmers Market runs year-round every Sunday from 10am-2pm. Check them out and find your new favorite local product!
Summer on Stratton
As we approach summer with excitement, snowy visions of Stratton fade into a distant winter memory. During the summer months there are always plenty of outdoor activities to stay active with. The snow may melt, but the adventure surely stays! Set out to explore the mountain and surrounding summer scenery by hiking one of the many trails on Stratton. Or, to get in a full body workout while relaxing on the water, rent out kayaks or paddleboards for the day. If you're more interested in courts and courses, the Stratton Golf and Tennis schools will help you learn the game or fine tune your existing skills. And of course, when the days get too hot, cool off by taking a dip at the Snow Making Pond-- the same water source that creates the snow covering your favorite trails in the winter!
Capture Your Stratton Childhood
Ski Stratton, It's a Life Style
The Stratton Jitney Makes its Maiden Voyage.
On Friday the Jitney departed Manhattan and arrived at Stratton Mountain Resort on its Maiden Voyage, making the four-hour ride from New York City a no brainer. There is no real need for wheels once you arrive at the Mountain since you're surrounded by après ski venues. Next Friday's departure is 5:45 pm from 44th and 3rd near Grand Central Station and leaves Stratton on Sunday at 4:00 pm. Due to a huge demand, a second bus has been added for Friday, January 15th so book your seats now. See you on the trails!
Live Music for the 2nd Weekend of the New Year!
The live music series continues this weekend at Stratton Mountain Resort with the return of the Lustre Kings on Friday from 3-6 pm at Grizzly's. They will be playing Elvis Presley tributes on the birthday of the legend. On Saturday, the McLovins will also perform at Grizzly's from 3-6pm. They are an up-and-coming funk/rock band. On Friday night there will also be a performance by comedian Jim Breuer. Breuer is famous for his stand-up comedy and named one of Comedy Central's "100 Greatest Stand-Ups of All Time." You may recognize him for the four years he spent on "Saturday Night Live" or from comedy movies he performed in. The doors open at 7:30 at Grizzly's and the show starts at 8:30. Ski Stratton it's a lifestyle.
One of the Top Ski Villages in the East!
Stratton Mountain Resort has a great village located at the base of the lifts. It's one of many features that makes Stratton a unique and exceptional ski destination in the East. Unlike most mountains, Stratton's village allows skiers and snowboarders access to a variety of shops without having to drive. You can feast on some of Vermont's finest foods; join in the après-ski festivities, get a massage at the day spa, and shop for winter gear, clothing, groceries and sweets. With over 15 mountainside restaurants, Stratton offers a variety for lunch and dinner without having to travel for the cuisine you are looking for. Enjoy the Village Pie Pizza shop, the Sushi Bar, Mulligans, The Fire Tower, fine dining at Verde, bars, and cafes. The village makes Stratton a family friendly destination with everything that will make your experience one to remember.
Get Ready, Winter Conditions are Finally Here!
Recent snowfall has brought 12 inches of new snow in the last 48 hours. The conditions on the mountain are looking great! Snow guns are in full effect 24-7 to add to the 92 acres of open terrain. Click into your skis or strap up your board to join us in welcoming the New Year on the mountain. Bundle up because the forecasted weather is in the mid 20's.
New Years Eve Events:
NYE Family Dinner Buffet 6-8
Grizlly's 21+ New Years Eve Party with live music by Let's be Leonard and West End Blend at 7:30
Torchlight Parade & 21 Jump Salute at 8:30
PERU FAIR- THE OLD FASHIONED WAY
Fall foliage has descended upon the Green Mountains and this Saturday, September 26th, Peru will celebrate the 36th Anniversary of the Peru Fair.
At the crack of dawn, this tiny village comes to life with musicians, artisans, food vendors and the sounds and smells permeate the air, inviting all to join in a day full of good old-fashioned fun!
Known for a fabulous pig roast- not to be missed- you'll enjoy a day with music and family entertainment, Vermont crafts, Cloggers, antiques and art exhibits, Vermont artisan demos, clowns, magicians, pony rides, art demonstrations, food for all taste buds and a front row seat for people watching!
The Peru Fair began in 1978 as the "end of the world tag sale", but has as Peru Fairs Web site says "evolved is not what a tag-saler would ever dream of. Each year approximately 100 exhibitors converge on the quintessential village of Peru, Vermont located off Route 11, to display and sell their arts, but most of all to be discovered by craft seekers of all types".
Join the parade of whimsical characters who officially open the fair. Admissions is $6.00 for adults and children under 6 are free. All proceeds of the Fair are donated to the Peru Scholarship Fund. The Peru Scholarship Fund is a non-profit organization that distributes educational scholarships to the children of Peru for higher education.
All parking is at the Bromley Mountain and free shuttle buses to the fair run all day. Please no Dogs and No Early Entry allowed.
Is there anything more romantic and picturesque than a New England covered bridge?
While the covering is erected to ostensibly extend the life of the bridge, these secluded spots served another purpose that gave covered bridges their nickname—kissing bridges. Vermont is home to over 100 of these sorts of bridges (more than any other state in New England), and has the nations only Covered Bridge Museum, which is located in Bennington.
Covered bridges act almost like a time machine, harkening back to a different era. With the leaves just now changing, it's the perfect time to cruise around, enjoying the foliage and a unique New England feature.
Mountain Biking
Why waste time with roads and the gym when you can explore the stunning Green Mountain landscape away from other distractions? Stratton Mountain is home to dozens of trails fit for every mountain biking enthusiast, from novices to trail hardened adrenaline junkies.
Fear not if you left your trusty bike at home! The professionals at First Run Ski Shop (located in Stratton Village) are more than happy to set you up with a bicycle and route maps tailored to your specific interests, skills, and style.
The whole of Vermont is waiting at your tires. Why not go on an adventure?
The Bondville Fair
It's the end of August in Vermont and the leaves are beginning to change. The weather exists in a strange halfway resting place between summer and fall and schools are opening. Why not celebrate the last vestiges of summer by going to the oldest continuously running fair in Vermont? The Bondville Fair has been running for over 200 years and features a wide variety of events, including rides, agricultural displays, dancing, pulling contests, and more.
Located on Route 30 in Bondville, directly across from the Stratton Mountain Access Road, the fair is easily accessible and offers fun for the whole family.
The Fair runs from August 28th to the 30th. Admission on Friday is $5, Saturday and Sunday are $10, which allows total access to all fair events.
A Hall of Famer for all Seasons
Stratton is famous for it's slopes, but is equally accomplished on clay and har tru. The renowned Drysdale Tennis School, run by the Australian tennis professional Cliff Drysdale, is a world class tennis camp. Instructors cater to all skill levels, groupings, and ages on both indoor hard courts and outdoor clay and har tru courts. The Drysdale Tennis School has been ranked as a top 20 tennis camp in the country by Tennis Resorts Online since 2009, in addition to being named the 10th best tennis resort in the country and the 2nd best resort for families by TENNIS Magazine. Call the Stratton Sports Center today to participate in the tennis school or reserve a court!
802-297-4230
Vermont Performing Arts
Just twenty minutes from Stratton Mountain Resort, the Weston Play House offers world-class theatre performances nearly every night of the week. Offering off-Broadway plays, the Weston Play House has become an elite cultural destination in Southern Vermont.
The non-profit opened its doors in 1935 during the Great Depression. Since then the theater has been called, "the most beautiful theater in New England". The theater company produces a schedule of plays that attract all ages. The main stage rotates new plays every two to three weeks offering world-class variety. Last month's show was Peter and the Starcathcers based on the best selling book. Currently the Weston Play House is performing Guys and Dolls based off the legendary Broadway favorite and the Other Place. For information on shows and ticket visit www.westonplayhouse.org for more information.
Summer In Stratton
We are having an amazing summer at Stratton Mountain. It's not over yet so join us before the leaves begin to change colors
Local Music
Vermont has a rich tradition of producing fantastic indie music, including Grace Potter and the Nocturnals, Phish, and Gang of Thieves. One of the latest bands to take the Vermont musical scene by storm is Twiddle. The quartet maintains modern rock sensibility, while infusing their music with funk, jazz, reggae and Latin undertones. These high-energy rockers have shot up in popularity, playing at festivals and packing theaters all over the region.
Luckily for those of us in the Stratton area, we can catch a live show from the Twiddle front man and lead guitarist, Mihali Savoulidis, as he plays a solo set at Whiskey Dicks Bar and Restaurant on Wednesdays at 8:30 in Bondville. His shows are always packed, the food and drinks are good, and it would be a mistake to miss this local artist who is on the road to stardom. So come out to Whiskey Dicks this Wednesday and enjoy the show!
Standup Paddle Board at Stratton
What does Stratton have in common with Hawaii? Both have passionate and rapidly expanding stand-up paddleboard communities. For those who haven't yet had the opportunity to experience paddleboarding, it can be most aptly described as a hybrid of kayaking and surfing. The boards are quite broad (generally around 36") and long (12'-15'), allowing them to be remarkably stable, even on ocean water, over distances of several miles. The stability of the boards has been highlighted with increasing frequency lately, as paddleboard yoga has gained popularity. Stratton Mountain even offers classes in the mornings on local ponds.
This is not to say that paddleboarding is easy—it is quite a work out, particularly for the core muscles that have to constantly compensate for the flowing water beneath. When the paddling aspect is added, the enterprise becomes a true full body workout, while still allowing you to take in the gorgeous Green Mountain scenery all around.
The recent surge in temperature makes the days of July and August the ideal time to get your toes wet (so to speak) and experience this new sport.
Click here for more.
Bromley Mountain Adventure Park
Bromley Mountain, just 20 minutes from Stratton Resort, offers summer excitement with their Mountain Adventure Park. There are a variety of thrilling rides including the longest waterslide in Vermont, climbing walls, zip lines, mini golf, and many more. One of the most exciting attractions is the alpine slide. Feel the wind against your face as you speed down a 2/3-mile track that is reminiscent of a luge track seen in the Olympics
Childcare Camps in Stratton
Summer is in full swing, with all the amenities Stratton Resort offers during the off-season. The Camp for Kids is a great way for children to enjoy summer in the Green Mountain State. Adventure Camp, Tennis Schools, and Golf Camp feature many different activities to keep kids active and exercising. If you have a younger child between the ages of 13 months and 3 years, Stratton offers a fully licensed childcare program. Drop your kids off and enjoy a nice relaxing weekend at Stratton Mountain! Find more here.
Stratton Jitney
Wohler Realty Group and Hampton Jitney Announces Stratton Jitney. Mid-Town Direct to Stratton Mountain. Friday Departures to Stratton, Sunday Returns to NYC
Be the first to reserve your seat. Jitney Ambassador Service. For more information about Stratton Jitney and finding your winter home at Stratton Mountain Vermont
Text "STRATTON" to 99000 or email winter@WohlerRealtyGroup.com
Get up and head on out
For many of us, Saturdays are a day that we can use to sleep in and relax, particularly on dreary Saturday like today. However, the West River Farmers Market in Londonderry makes a compelling case to get out of bed and go out into the world before noon. Featuring dozens of local vendors, a wide array of products are offered at low prices, from prepared foods, crafts and artisan wares, and agricultural products, such as cheese, meat, and maple syrup. Many of the vendors offer samples to allow you to try some of their more exotic flavors (such as jalapeno pickles) before making your final decision.
Despite the steady, and occasionally heavy rain this morning, the market was still lively, with people wandering among the various booths, while a four-piece band (two guitars, a banjo, and a stand up bass) performed in the middle of the market. Next week, with better weather, the market should be even more active.
The West River Farmers Market runs from 9-1 every Saturday, rain or shine. It is held at the crossroads between Route 100 and Route 11.
http://www.westriverfarmersmarket.com
World Class Music in Your Community
Living in Southern Vermont affords residents a wide array of activities to enjoy year round—hiking, skiing, a multitude of microbreweries, swimming holes—the list goes on and on. One of the most unique venues that can be found anywhere in the country is the Manchester Music Festival. Now entering into it's 41st year, the Manchester Music Festival is a year round event, featuring world class classical musicians, in addition to providing multiple music education programs. The music itself defies traditional expectations of classical music. For example, tonight's entertainment is provided by Out on the Tiles, a Led Zeppelin tribute band, featuring classically trained artists playing an array of instruments, from electric guitar to cellos.
Tickets are available online and for purchase at the box office the day of the concert, allowing everyone a chance to get a good seat. Additionally, the pricing is hardly prohibitive-- $20 for general admission and $5 for lawn seating. The Manhester Music Festival is a truly unique offering that is necessary to experience.
Elite Equestrian Competition in Vermont!
For six weeks, from June 30th to August 9th, East Dorset is home to the Vermont Summer Festival Horse Show, an event taht draws elite equestrians and passionate fans from around the country tocompete in a multitude of disciplines.The festival is New England's largest Hunter/Jumper competition and runs each week from Wednesday to Sunday, opening at 8 a.m. Admission is $6 for adults during the week ($3 for children), $9 and $5 over the weekend. 100% of the gate revenue will be donated to the Manchester Community Library and Dorset Equine Rescue. With the weather finally taking a turn away from the chilly extended spring, it is the perfect time to get outside, watch some elite competition, and support your community.
All events are held at Harold Beebe Farm, located along Route 7 in East Dorset.
http://www.vt-summerfestival.com/
Black Bears in Stratton
It's hard to avoid black bears at Stratton. During the winter their name and image is seen all over Stratton. There is the Black Bear Lodge, the Dashing Bear Boutique, and the Rising Bear Lodge. Nevertheless most winter residence don't get a chance to see black bears in person as they are hibernating for upwards of 7-½ months.

In fact, around here it is sometimes considered good luck to see a black bear. Luckily I got to meet one walking behind the Stratton Fitness Center last Tuesday. Black bears are among some of the friendliest species of bears. Near Stratton most are herbivores that eat nuts and berries. That being said use discretion when mothers are with their cubs as they may become hostile.
Think Global, Eat (very) Local
The Farm-to-Table movement has been steadily growing for a number of years. It's time to understand what that actually means, and all that it entails. At its heart, Farm-to-Table is all about providing consumers with locally produced food. Advocates of the movement stress the links between farmers, farm communities, the consumer, and the food that we eat. By cultivating relationships between farms, restaurants, and consumers, local communities and economies are necessarily strengthened.
A driving force behind the increasing popularity and availability of Farm-to-Table restaurants is the mounting backlash against genetically modified organisms, or GMO's. It is estimated that 70% of prepackaged food available in grocery stores have some elements of GMO's in them. Recent studies have begun to raise questions as to the long-term safety of eating these modified foods. This has made Farm-to-Table restaurants even more appealing, with their focus on food safety, freshness, seasonality, and small farm economics.
Farm-to-Table restaurants are readily accessible in the Stratton area. SoLo, located in Londonderry, is a renowned Farm-to-Table restaurant that was named one of America's top 25 restaurants in 2013, and boasts Chef Wesley Genovart, who has garnered a great deal of press and accolades in his time working in New York City and in Vermont. Additionally, the Stratton Mountain Golf Club is home to The Green Apron restaurant, which hosts several Farm-to-Table dinners throughout the summer.
Learn more at http://www.stratton.com/stratton-information/media-room/press-releases/green-apron-dining-2015.aspx
Inspired at Stratton
In June Stratton Mountain hosted the Wanderlust Festival – a celebration of mindful living. It was an incredibly success – the weather was nearly perfect and concerts were the centerpiece of every evening with a range of talented artists. After the Barr Brothers left the stage on Saturday night, a sizable contingent of concert goers were still eager for music and were delighted by an impromptu performance by the High & Mighty Brass Band, who played and danced among the crowd. For those who sought a more intimate venue, it was karaoke night in another tent but the highlight was when Joe the Security Guard sang Van Morrison's "Moondance".
The days were clear and filled with activities from paddleboard yoga to classes on top of a specially constructed platform located on the peak of the mountain, offering commanding views of the surrounding landscape.
Wanderlust will be back next summer with offerings that will appeal to all levels of yogis and new-practitioners. It is a wonderful event that inspires attendees and provides them the opportunity to reflect on their own lives in a tranquil, safe place. Don't miss it.
You can sign up at http://wanderlust.com/events/#wanderlust-festivals/ for more information and the 2016 schedule of Festivals.
Get Your Wheels!
The natural beauty of Stratton never ceases to amaze- from the first view of the mountain driving up the access road or standing outside the base lodge. You can experience even more beauty from remote locations on wheels. Sign up for an ATV tour, run by Stratton Adventures. The action packed tours will take you from the base to the summit, allowing you to find views and vistas that few others will have opportunity to experience. Sign up soon and see more of your summer home. http://www.stratton.com/events-and-activities/stratton-activities/summer-activities/atvtours.aspx
Stratton Mountain Base Lodge Update
After months of planning, the next stage in renovating the Base Lodge on Stratton Mountain has commenced. The roof has been lifted and upward expansion can begin. The project will be completed well before the first major snow of the year. Watch for regular updates at Wohler Realty Group!

Special Video
Take a look at some of our beautiful properies!
Wanderlust Yoga enthusiasts have once again made their way to Stratton Mountain for Wanderlust, the four-day retreat designed to reaffirm the importance of mindful living. There are several events that are worth checking out. The festival grounds feature the Kula Market (a venue for local artists to showcase their wares), the Food Co-op (filled with the freshest local foods), and Rue Boheme, an all day outdoor music venue. If you want to go the extra mile and join a yoga class, tickets are still available and the breadth of options is staggering, including yoga on the lake, yoga at the summit of Stratton Mountain, yoga in black light, hiking, meditation, and daily concerts.
For those who are just now hearing about Wanderlust, be sure to look into the evening concerts (headlined by Trevor Hall, the Barr Brothers, and Lee Fields & the Expressions), as well as outdoor yoga. The views are unforgettable and heighten the entire experience.
This weekend is set to be a beautiful one—it would be a shame to miss out on this special event in the sun.
One of the best features Wanderlust offers is variety. You can chose from over 40 different activities each day. The schedule includes yoga, music, hikes, standup paddle boarding, various talks, and food & wine tasting. Many of the events try to incorporate the outdoors with various meditative and spiritual practices. Most days start with a sunrise hike starting at 6:00am. Hikers will experience the fresh air of the green mountains and the beauty of Stratton Mountain. The number of different possibilities for the day is endless. In fact, you can chose to only listen to live music all day if that is your passion. The classes offer you an opportunity to meet new friends, learn new ideas, practice yoga, and find inner peace. At the same time, take in the warm summer air and enjoy everything Stratton Mountain has to offer.
Grab the Granola and GO!
I only see my girlfriend every few weeks so I feel we should be doing something fun and memorable when we are together. Lounging around the apartment certainly doesn't qualify as memorable. Fortunately, Stratton and the surrounding areas offer a multitude of things to keep you and your date busy and having fun!
One of my favorites is to take a hike. It gets you away from other distractions-- iPhones, cooking, life in general-- so you can just enjoy each other's company.
The Stratton Pond Hike is a great choice. This 11-mile hike is fairly simple and takes you on a loop around some of Stratton's more interesting landmarks. Additionally, the trail frequently breaks free of the trees, offering a diligent boyfriend the opportunity to surprise his date with a picnic, nestled on one of the many vistas that offer breathtaking views of the Valley below.
Tough Mudder Comes to Vermont!
Looking for a physical challenge? The Tough Mudder is a test of incredible endurance and supports the Wounded Warrior Project, helping injured service members adapt to civilian life.
Teams compete on a 10-20 mile course by racing up a mountainside and completing different obstacles to challenge both their mental and physical endurance. The Tough Mudder puts camaraderie over finisher rankings so you'll experience exhilarating, yet safe, world-class obstacles.
If you are interested in competing or purchasing a spectator pass, nearby Mount Snow will be hosting a Tough Mudder event on June 6, from 5:00 P.M. to 12:00 A.M.. To register visit: https://toughmudder.com/events/2015-new-england
Stratton Mountain has a multitude of lodging options available to the Tough Mudders @ 800-STRATTON.
Presidential Hopeful Speaks at Local Parade in Brattleboro
https://www.youtube.com/watch?v=HAyh7m4Wmi4
Senator Bernie Sanders has become a local celebrity and community figure in Vermont. When he is not in the Capital he is often taking time to visit his constituents, making appearances at various high schools and town meetings alike. In fact, today, the presidential hopeful marched in the Brattleboro Strolling of the Heifers. The event is a celebration of local farmers, local food, and rural life. Following the parade, Senator Sanders gave a speech in the Brattleboro Commons. He has been a big proponent of the availability of local and healthy foods for all communities. Last year he voted to pass a new five-year farm bill. Stating his reasons, he said 'that the bill brought greater stability to Vermont dairy farmers by helping them to manage risks and produce products more efficiently." For more info on the event, check www.strollingoftheheifers.com/strolling-of-the-heifers-par…/
STRATTON 24- MARCH 21, 2015
The 24 Hours of Stratton is an epic skiing / snowboarding event designed for people of all ages and ability. Ski as an individual, or create a family of up to 12 riders consisting of co-workers, neighbors, friends or classmates. Each athlete can ski for as long or as little as desired, from noon on Saturday to noon on Sunday as the mountain is lit for night time riding, from dusk until dawn!
FUNDRAISING
The 24 Hours is FIRST and FOREMOST a FUNdraiser dedicated to helping under-privileged youth in Vermont. "Moving Mountains" is a Stratton Foundation initiative to provide basic living necessities such as food, warm clothing, personal care items, access to dental treatment, school supplies, transportation to school and doctors visits, and an equality of educational opportunities for children that cannot otherwise afford them. Also supported through "Moving Mountains" is a "Student Success Program" targeting high school teens who aspire to be first generation college graduates or who are not yet fulfilling their potential.
THE FUN
A weekend party of activities is planned for athletes and spectators:
Friday night welcome dance party

Opening Athlete Parade

Live Bands and DJ music

Fireworks

VT Food & Special Event Vendors

Games, Raffles, Giveaways

Celebration BBQ and Awards
Prizes are awarded in many different individual and family/team categories, for most money raised and for most vertical feet skied.
---
Stratton Mountain Spring Fling and Annual Pond Skim
Apr 11, 2015 12:00pm EST
The Pond Skim to the first 125 participants. Goggle tans for everyone! It's time to enjoy spring's soft snow, longer days and sunshine with a weekend of celebration and the Annual Pond Skim. Costumes are highly encouraged!
Pond Skim - Saturday, April 11 at Noon on Lower Suntanner (one run to each participant)
Register: April 11 from 9-11am in the West Wing of the Base Lodge - $20 Fee (includes t-shirt - lift ticket not included)
---
Celebrate the Night in BLACK & WHITE
Stratton Mountain School Winter Ball
The 2015 Black & White Winter Ball was held on Saturday, Jan. 31, 2015. The SMS community celebrated all of Stratton Mountain School's success, donned their black and white best, and supported a wonderful cause, the SMS Scholarship Fund. The 2014 Dreams of Gold Winter Ball celebrated the Sochi Olympics by congratulating the 12 SMS alumni who competed in the Sochi Winter Games, and recognized all of our 42 amazing Olympians. Thank you to everyone who came out and made this evening a huge success! It raised more than $100,000 to support the SMS Scholarship Fund.
---
A New Standard in Ski Resort Medical Care
Get ICE: In Case of Emergency
Stratton Mountain Urgent Care at the Carlos Otis Clinic has provided superior medical care to the Stratton community since 1971. Over the years, we have built long-term affiliations with physicians from some of the nation's most renowned medical facilities, such as Brigham and Women's, Massachusetts General, Tufts Medical Center and the Hospital for Special Surgery. Doctors from these and other leading hospitals offer their services at the Clinic for a week at a time on a rotating basis. As experts in orthopedics, family medicine and emergency medicine, our team provides care to skiers and non-skiers alike throughout the winter season.
A full-time staff of experienced nurses takes competent and compassionate care of patients of all ages. From fractures to life-threatening events, from ear aches to stomach aches, from sore throats to sore muscles, our patients benefit from the highest level of care, right here at the base of Stratton Mountain. All of our emergency medicine physicians and nurses are certified in advanced cardiac life support (ACLS). Stratton Mountain Urgent Care is indeed one of the pre-eminent ski resort medical facilities in the nation.
Sunday through Thursday:
8:30 AM - 5:00 PM
Fridays, Saturdays and holidays -
Beginning after December 15th
8:30 AM - 9:00 PM
802-297-2300
---
Snowlight in Vermont
The Stratton Foundation invites you to be a part of the 2014-2015 Holiday Season's SNOWLIGHT IN VERMONT.
Join us and dedicate a tree to celebrate your family or the memory of someone special.
Proceeds to benefit families in need throughout the holidays and throughout the year!
TREE LIGHTING CEREMONY
SCHEDULE OF EVENTS
4:00-5:30 Donor Cocktail Reception
5:30 Grand Tree Lighting